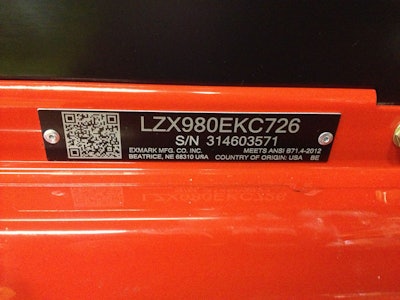 Exmark is taking an extra step to provide more information for landscapers.
The company recently launched MyExmark.com, which includes the use of QR code scanning technology.
Landscape professionals will have the ability to learn more about their machines, including information about service, dealers and specifications, through the QR scanning system.
The QR code scanning applications are free and available for smartphones. Exmark owners can learn the following information:
Equipment specifications
Detailed maintenance schedules
Contact information and maps to local Exmark dealers
Warranty information
Special offers from Exmark
When a user scans the QR code on a piece of Exmark equipment, they are directed to the MyExmark.com website. Users are then asked one question, "Are you the current owner?" Once ownership is verified, the owner is taken to more product information.
For those who cannot access the QR scanning application, individuals can access the same information by entering the serial number of a piece of equipment in at MyExmark.com.
The site tracks all of the Exmark equipment in a fleet, including machines built prior to 2014. If a piece of equipment is sold or retired, its information can be hidden from view. Owners can also report a piece of Exmark equipment stolen on the site.