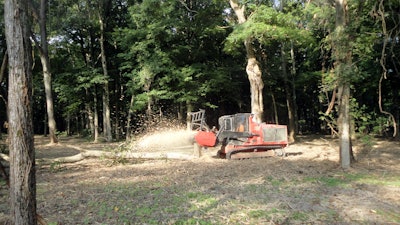 Fecon's FTX128L mulching tractor tackles right-of-way mulching and more
Perform right-of-way mulching, clearing, and other forestry and urban applications with Fecon's FTX138L mulching tractor.
Delivering 60 gpm to the Bull Hog forestry mulcher, the compact FTX128L has 20-inch tracks that have just 3.8 psi of ground pressure.
The unit features a Cummins QSB4.5 diesel engine that delivers 128 horsepower, and fuel consumption is less than 4.5 gallons per hour.
Fecon has simplified machine service with full access side doors and engine compartment room.
Editor's Note: Amy Materson is the Managing Editor for sister site Equipment World.