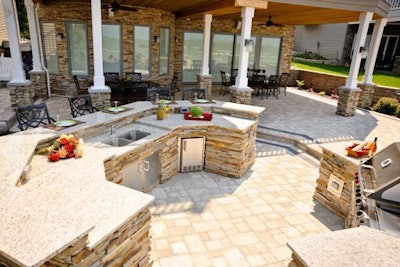 In preparation for Memorial Day, many landscapers are busy finishing up maintenance and big projects just in time for the summer months.
However, CertainTeed offers a few additional suggestions on how to spruce up outdoor elements for clients this summer.
Firepits
Fire pits can serve as a focal point in an outdoor landscape design, and are a popular and relatively affordable way to create a central gathering spot in a backyard or patio. For larger spaces, a custom outdoor fireplace might be an option.
Prep the deck
Transform a deck into an inviting space for entertaining by adding comfortable furniture and fun accessories, creating separate zones for grilling, dining and lounging. Water features are also a favorite, adding interest and privacy while disguising unwanted background noise. In addition, shading features like an umbrella or pergola can keep the area cool and comfortable.
Create ambiance with lighting
Outdoor lighting can set the mood and create a comfortable, relaxing atmosphere after the sun goes down. Step and path lights improve safety and add visual appeal, and solar-powered lights are an easy and affordable way to accent landscaping. Also, energy-efficient LED lights don't attract insects like halogen lights.
Keep outdoor areas dry
Rain in the forecast? A water diversion system can be a real party saver; keeping patios dry by preventing water from seeping through underneath decks. An innovative outdoor 'ceiling,' it looks great and requires very little maintenance.