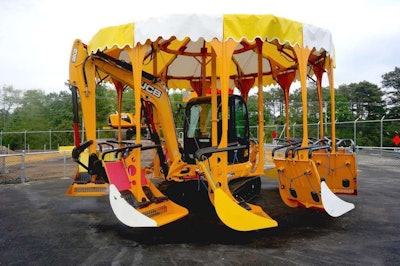 As the owners of Sambe Construction, the Girlya family has seen many different types of projects over the 30-year history of the company. Since emigrating to the U.S. from the Soviet Union in the late 1970s, father Samuel Girlya along with wife Betya and sons Ilya and Yan have built schools, municipal buildings and even their own indoor water park called Sahara Sam's, located in West Berlin, New Jersey.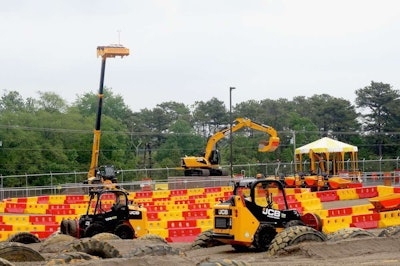 But at the end of December last year, the family, with the help of several sub-contractors, started work on its most ambitious project yet and one that is close to their hearts.
Funny thing is, the end result is what contractors usually start with: a jobsite. But this isn't just any jobsite, it's Diggerland USA, the first and only construction equipment theme park in the U.S.
On this jobsite, there's always more dirt to dig and 14 acres to roam around in a wide variety of heavy equipment—nearly all of which is brand new JCB machines. It's the most fun jobsite in the country and it was built to share the joy of building that the Ilya family has known for more than 30 years, with other families.
And if things go according to plan, the park might spread to more parts of the country.
Building a jobsite
Inspired by four parks of the same name in the UK, Diggerland USA is set to hold its grand opening on June 14 and held a special preview for friends and the media last Thursday afternoon.
"It's a long time coming," said Diggerland USA president and CEO Ilya Girlya, beaming with excitement that his vision is nearly complete. There are still a few finishing touches to put on the park, but Girlya noted that many told him it couldn't be done at all. "It's unheard of to build an amusement park in six months and promote it and market it."
Shortly thereafter, Girlya hurried over to give a group of kids the very first ride on the park's premier attraction: the Spin Dizzy. The ride seats nine thrill seekers in a modified bucket of a JCB JS220 excavator and spins them around while lifting and lowering them. It's an odd concept on paper but once you see it in action, it is unquestionably tempting.
Park principal Yan Girlya said the biggest challenge in building the park was the harsh winter weather. "That delayed things a bit but I have to give it to our sub-contractors," Girlya said. "Sometimes there would be four or five inches of snow on the ground and I'd see a guy pushing it out of the way so they could work the next day."
A huge opportunity

Yan Girlya said the park is unique because it offers an experience that people never really grow out of. "Who as a kid didn't drive by a construction site and see the equipment and think, 'Wow, that would be awesome to drive.' We offer that. We take that kid and make them an adult," he said, by giving them the chance to finally operate heavy equipment in a safe environment.
When asked what the community's reaction to the unique park has been, Yan Girlya said he's only heard positive. In fact, Girlya said they expect such a big response the park might see its first expansion in the middle of the upcoming season. But the Girlya family doesn't want to stop there.
"We see a huge market here in the U.S. to expand this thing out (to other parts of the country)," he said. "It's going to take a lot of capital and a lot of initiative but we feel like we can do it."
The rides
In addition to the Spin Dizzy, the park offers patrons the opportunity to operate a JCB 3CX backhoe through an obstacle course as well as one of eight JCB 135 skid steers. And the park wouldn't earn its name if there weren't a ton of excavators. Available to operate are 12 JCB 8018s, five 8030s and 4 8065s. An additional 8065 was modified into a merry-go-round called the Dig-a-Round.
The park also uses two modified 540-170 telehandlers for two very different rides. The Sky Shuttle lifts 15 riders 50 feet into the air while the Ground Shuttle lifts riders 6 1/2 feet off the ground before driving them through a course and moving them 25 degrees in all directions.
The only non-JCB pieces of equipment at the park are Terex TA1EH site dumpers which patrons can operate in an obstacle course, or catch a ride behind as they pull train cars around the park.
There are also military trucks used for a ride called "Camo Quest" and turnpike tractors and mini Land Rovers that kids can drive on a mini winding road.
But don't expect this list of rides to remain static. Yan Girlya said that the park is already creating new ride concepts.
Click through the slideshow below:
Editor's Note: Wayne Grayson is the Online Editor for sister site Equipment World.