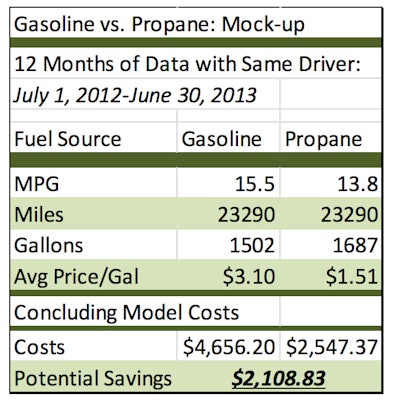 Fleet managers looking for alternative fuel vehicles – whether to limit greenhouse gas emissions or to respond to social or political pressure – should consider converting to propane autogas vehicles among the viable options, according to a new report.
"Propane autogas provides a substantial alternative to traditional gasoline and diesel fuels in fleets," says the study, conducted by the Stennis Institute at Mississippi State University and commissioned by the Mississippi Propane Gas Association.
In the report, researchers detail the various considerations of converting traditional gasoline fleet vehicles, primarily medium-duty vehicles and police cruisers, to propane.
Among the benefits:
Price: The gasoline gallon equivalent price of propane is $.25-$.45 cheaper than gasoline, per gallon, based on recent prices.
Energy Security: Based on the nature of the extraction process of propane from natural gas processing and crude oil refining, the reliance on petroleum from foreign sources is reduced significantly.
Infrastructure: One of the biggest positives for propane autogas in the alternative vehicle fuels market is the wide availability of propane filing stations compared with other alternative fuels. Additionally, propane provides the flexibility of erecting filling stations with a minimal cost, when compared to other fuels. This is based primarily on the limited equipment needed to install these stations.
Emissions: Although the levels are questioned, propane results in a reduction in greenhouse gas emissions in the use of LPG over gasoline or diesel. Propane is a clean-burning, nontoxic gas which does not harm soil, water, or other natural elements.
Maintenance and Extended Vehicle Life: One of the most documented benefits of the use of propane in vehicles is the clean burning nature of the fuel, and the extended life reported in engines. The Department of Energy reports that engine life has been documented as doubling its overall lifespan when propane is used as a fuel in the vehicle.
Because the cost of converting vehicles varies significantly based on the age, type of conversion, and model of vehicle, the study used the data found by surveying multiple entities across the state and region and found that the average conversion cost for a vehicle was about $5,600.
Case studies featuring a range of fleets discuss the pros and cons of converting to propane in some detail, and provide side-by-side operational comparisons with gasoline and diesel.
"Considering the costs of the conversion, it is important that decision-makers incorporate the cost of conversion into their models for converting to LPG to fuel their fleet vehicles," the study notes. "Depending on fleet size, makeup, and VMTs, propane might not be the answer for everyone, but it is an avenue of consideration for fleets interested in utilizing alternative fuel vehicles."
Editor's Note: Kevin Jones is a senior editor for sister site Hard Working Trucks.