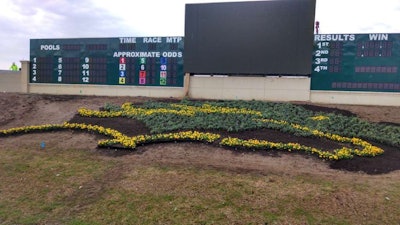 The logo at Belterra Park Gaming and Entertainment Center is now complete with help from Hyde Park Landscaping installing Oly-Ola Edgings' Super Edg recycled vinyl 6-inch deep low profile landscaping edging.
The racehorse logo is outlined in edging and filled with different colors and types of annuals.
The edging is secured with specially developed 14-inch steel anchoring stakes, which slide through pre-cut slots to penetrate the ground for permanent installation.