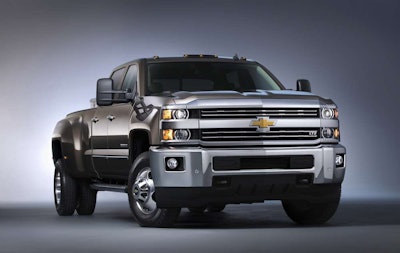 General Motors has announced a recall on 57,192 HD pickups due to a defect that can cause a loss of power-steering fluid.
Trucks affected by the recall include the 2015 model year Chevrolet Silverado 2500/3500 HD pickups and the GMC Sierra 2500/3500 HD pickups.
GM says the affected trucks potentially have power-steering hose clamps that aren't properly attached to the power-steering pump.
When the vehicle is driven with that clamp unattached, GM says the hose "may disconnect from the pump or gear, causing a rapid loss of power-steering fluid."
That would mean a sudden loss in power-steering assist and Hydro Boost-powered brakes. Should that happen, GM says the truck would revert to manual brakes and manual steering.
So far, the automaker has not been made aware of any crashes or injuries resulting from the defect. Customers affected by the recall will be asked to bring their trucks into a dealer where the trucks will be inspected in two locations to ensure proper attachment of the clamp to the power-steering hose.
No date has been set for the recall yet and it's not clear if GM has yet sent out letters notifying affected customers.
A smaller recall was also announced for 2014-15 model year Chevrolet Silverados and GMC Sierras pertaining to a defect with some all-weather floor mats.
GM announced a recall of 184 Silverados and Sierras with vinyl floors and optional all-weather floor mats. The mats can slip beneath customers' feet while driving because the floors do not have attachments to keep them in place.
No injuries or crashes have been reported due to the floor mat defect. GM asks that customers bring the floor mats into a dealer for a full refund.
Editor's Note: Wayne Grayson is the Online Editor for sister magazine Equipment World.