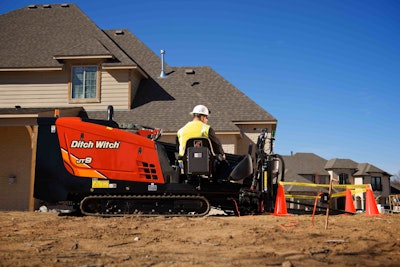 To help with tight spaces on jobsites, Ditch Witch released the JT9 horizontal directional drill.
The 64-horsepower machine features an air-cooled Deutz diesel Tier 4 engine.
The directional drill includes 9,000 pounds of pullback force and has features like a strong anchor system, open-top vise wrenches and an integrated remote display.
The operator is positioned near the center of the pipe rack for better pipe handling. Additionally, the carriage travels the length of the drill frame, which results in faster cycle times and more pipe in the ground. The JT9 can hold 300 feet (90 meters) of drill pipe on board.
The operator's station features a display that provides all engine diagnostics, and an ergonomic seat that slides fore and aft. As for maintenance, the JT9 has no grease zerks and all daily maintenance points are in one location.