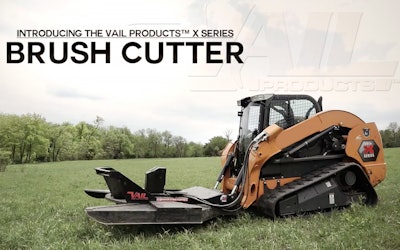 Vail Products has introduced a series of attachments for compact track loaders, skid steers and utility tractors.
The Vail Products X-Series includes a rotary tree saw, a four-blade brush cutter, a shrub and tree removing grubber, a wide-mouth brush grapple, a 78-inch-wide land planer, rock and dirt augers, and a loader-bucket-style cement mixer.
The series features hydraulically operated parallel rippers, scarifiers, backup rippers, grubbers and stump shears, along with the Rip-N-Pin and X-Ripper.
Additionally, the new series will be featured in a new partnership between Vail Products of Horton, Kansas and Ducks Unlimited Television and Gamekeepers of Mossy Oak, which began their fall schedules on the Pursuit Channel in June.