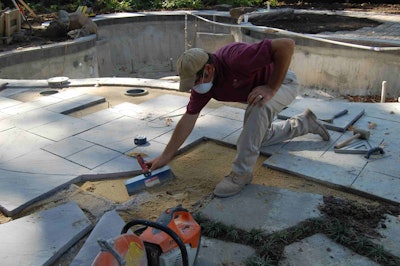 In the previous installments of this series I wrote about what it takes to survive your first week and month as a newbie.
Assuming you survived and have proven to be a dependable employee, here's some final advice on how to make a career in landscaping.
The key in your first few years is to find and work for a great company. If the company you're working for now is deficient in any of the following areas, keep your eyes open for better opportunities:
1. Safety
You should get at least one safety briefing, tailgate talk, what have you, every week. Advanced safety training, such as OSHA certification, is a plus, as is a safety bonus program. If you see safety shortcuts, or if safety is ignored, find somebody else to work for soon.
2. Training
It may take a while before the boss deems you sufficiently worthy to send you off site for some advance training, but after a year or so, good companies will help employees start building skills with training courses. This may be a seminars, workshops or tradeshows. The industry has thousands of these.
3. Career
Is there a path to promotion? Moving up can take a long while in a small company, but big or small they should be able to tell you what it takes to go from laborer, to supervisor to a higher level manager.
4. Loyalty
Many companies have frequent turnover on the low end of the skill scale. But if the managers and supervisors are bailing out for an extra 50-cents an hour, the company may have problems. If you get the feeling you're on a good team, you like the people you work for and you're eager to do well, you're in a good company.
5. Benefits
It almost goes without saying, but if health and medical benefits, overtime and paid vacation aren't offered, you're not looking at a legitimate company. Companies like this go belly up all the time, often without enough money to make the last payroll.
__________________________
Once you've found a great company to work for, think about where you want to go in the industry.
Are you content to be a well paid skilled laborer, or do you want to do more? Would you like to run your own company someday?
Landscaping is one of the few businesses you can launch on your own and build up into a multi-million dollar enterprise with nothing more than hard work and smart decisions.
Striking out on your own isn't for everybody. It's high risk and high stress, but if you've ever wanted to be your own boss, the landscaping industry is one of the best places to do it.
Landscaping is also one of the most satisfying careers you can get into. With the right company you will never stop learning and you will always be getting better. The challenges build character and the camaraderie is great. There are plenty of forgettable jobs in this word, but not landscaping.
To apply your mind and muscle to the raw materials of wood, stone, steel, dirt, concrete and asphalt, and build something solid, lasting and useful, there isn't anything else like it in the world.
Editor's Note: Tom Jackson is the Executive Editor for sister site Equipment World.