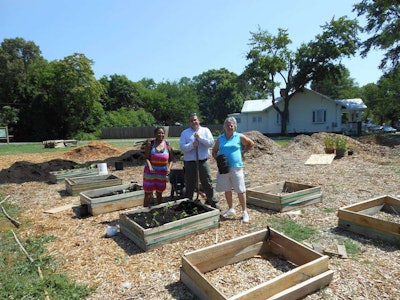 One organization is taking local businesses' waste and transforming it into a usable resource for the community.
The Compost Credit Program created by Natural Organic Process Enterprises (NOPE) can literally turn peoples' trash into a treasure.
Started in 2009, NOPE was formed to provide collection and environmental consultation services to companies and institutions who want to include organic recycling or compositing as part of their sustainability efforts.
The Compost Credit Program is a new effort where compost is returned for use in sustainable applications such as gardening and landscaping.
For every ton, or 2,000 pounds, of compostable material collected by NOPE, a Compost Credit is issued.
Each of the credits, which accrue with time, can be redeemed for 40 pounds of locally produced compost.
NOPE also encourages and coordinates donation with these credits to local area agricultural non-profits.
One of NOPE's clients, the Hilton Garden Inn Richmond Downtown, was the first client to commit compost credits to the nonprofit Enrichmond Foundation.
The donated compost jump started two differnet community gardens part of the non-profit's program.
To help, the compost was matched by a locally owned nursery for a total of 14 cubic yards, or 7 tons, of donated compost.