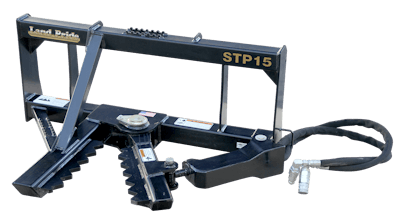 Adding to it's equipment lineup, Land Pride introduced two products to help landscapers in the field every day.
The STP15 Tree Puller removes shrubs, saplings and small trees by pulling them out of the ground, including the roots.
The serrated teeth help remove steel and wood fence posts, and the 10-inch jaw opening allows operators to pull a variety of trees and posts out of the ground.
The frame on the machine is made from 3/16-by-3.5-inch square tubing. The teeth are laser cut from 5.8-inch steel and measure 16-inches in length.
Additionally the machine features a 2.5-inch pivot pin, and a 2-by-8-by-1-inch welded cylinder supplies the clamping force.
A steel guard manufactured from 3/16-inch plate steel protects the cylinder and its hydraulic connections.
In addition to the STP15 Tree Puller, Land Pride introduced the SRT Skid Steer Rotary Tillers.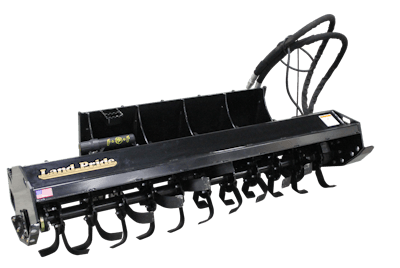 Available in 62-inch and 76-inch widths, the SRT can be offset 6-inches to the right for tilling next to fences, buildings or sidewalks.
The SRT features a bi-directional rotor with a swing diameter of 18.3 inches and spins up to 245 rpm, depending on the motor.
Additionally, the C-shaped tilling tines are made from steel and feature bi-directional cutting edges. There are four per flange.
Standard ¾-inch steel ripper-shanks assist in breaking virgin ground – five shanks on the 62 inch and six shanks on the 76 inch. Ripper shanks are held in place by a 3/8-inch formed channel.
The Depth Gauge Indicator provides the operator with a visible indication of depth – 2, 4 or full 5.6 inches.
Skid shoes come standard, and two motor options are available for the SRT62.
Land Pride offers low-, or high-flow motors to fit a variety of skid steers from 14 to 40 gpm. The SRT76 is available only in a high-flow, 23 to 40 gpm model.