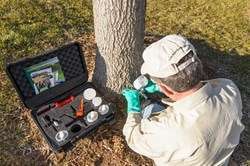 During the International Society of Arboriculture International Conference and Trade Show, ArborSystems will be showing off its Wedgle Direct-Inject Tree Treatment System.
The tradeshow is set to take place in Milwaukee, Wisconsin August 2-6 at the Wisconsin Center.
The Wedgle is a no-drill tree treatment system that can treat almost any tree in a matter of minutes.
Additionally, the treatment does not require mixing in the field, waiting for uptake of chemicals, guarding during the draining process, need for power, pumps or return trips.