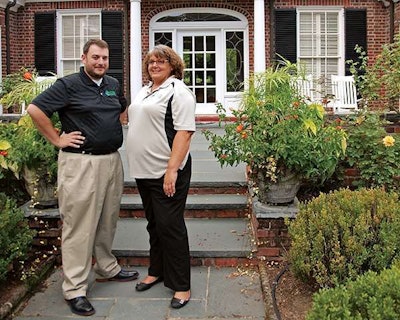 Lewis Bennett and Dana Shook's contagious passion for their work, clients and employees continues to set their company – Green Dreams Landscape Management in Pinebluff, North Carolina – apart from the competition.
Bennett started out mowing lawns with his brother, and the two created Bennett Brothers Lawn Care. It wasn't until he met Shook that they renamed and restructured the business to become Green Dreams.
Shook also grew up around the green industry. Her grandfather mowed horse farms in Michigan, so she learned how to mow in a straight line early on. Later, she worked for the Charlotte Department of Transportation (DOT). It was in this job at a tradeshow, the Charlotte Home and Garden Show, where she met Bennett.
"I thought he was going to be another account," she laughs. Obviously, he turned out to be much more, and the couple ended up launching Green Dreams together in 2001.
Now, their services include lawn care, chemicals, design/build, irrigation and water features. For cutting down large trees or cleaning gutters, they hire subcontractors. They also manage about 20 homeowner associations (HOAs) every week and 1,100 households a month.
Beating the odds
Since 2006, the company has experienced a 30-percent growth each year – even during the recession. "We've been very blessed," Shook says. "God has looked out for us."
See more project photos from Green Dreams
When they saw the economy changing in 2008, they moved their install team to maintenance. "We have a lot of retired clients, so we thought this was the direction to go," Bennett says. "We decided to put all of our chips in the maintenance team."
Their decision has paid off. The couple hasn't let anyone go because of a lack of work.
And while many companies closed their doors, Green Dreams actually bought out another business. In 2008, they purchased equipment and accounts from a local landscaper who had a lot of HOA customers.
While running their thriving business takes up much of their days, the couple makes sure to separate their work and personal time.
"We try to shut off work talk at home," Bennett says. "If not, the job becomes your life."
Spreading the word
Part of the reason for the company's continued growth stems from their marketing efforts.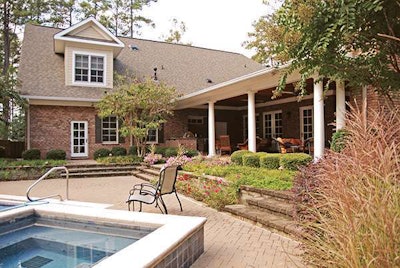 They started running daily radio ads about two years ago where they not only advertise their services, but they also encourage community members to check other landscapers' licenses and certifications before hiring them.
Green Dreams offers website estimates, attends Chamber of Commerce meetings, sends mail outs, holds Facebook giveaways and hosts customer events like their annual BBQ day. Pig Pickin' includes live music, drinks and Southern cooking for customers and some of their dealer reps.
"We really get to know people at the Pig Pickin'," Shook says. "We become their friend – not just their contractor."
This BBQ-filled day has also brought in additional business for Green Dreams. One year, they made a connection with an attendee that resulted in a $180,000 a year commercial maintenance contract.
Family affair
Green Dreams has a true family atmosphere, with both Shook and Bennett's parents working for the company. Their moms help with the front desk, and Bennett's dad serves as their in-house mechanic. Altogether, they have 32 employees and a dog "mascot" named Frank.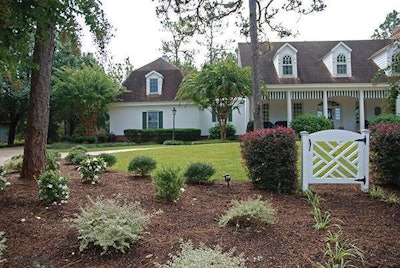 But finding good employees has been a struggle for Green Dreams. If a current employee refers someone and that person stays with the company for at least six months, the employee receives $25.
"We want someone who will be here on time and enjoys their job," Shook says. "We don't want someone who just wants a paycheck."
They hold a training meeting each Monday where they talk to employees about leadership, safety and show instructional videos. "We'll also go to jobsites and show crews what's right and wrong there," Bennett says.
Part of their employees' training includes knowing 10 basic plants. They also have to make 70 percent on a written test and 100 percent on a visual test.
"Without them, there would be no Green Dreams," Bennett says. "We keep that in mind at all times."
It's easy to see their employees notice and appreciate their management style.
"They have a good attention to detail, and they really listen to customers. They treat you like family," says their maintenance manager, Jeff Burleson, who holds a horticulture degree and is CPP certified through NCNLA. "Green Dreams is the top company here."
Bennett and Shook have a goal of adding a crew each year.
Personal touch
Not only do they invest their time and expertise into their employees, but they also make sure clients have a good experience with their business.
"Our customers get two opinions for the price of one," Shook says with a smile.
They work to make every aspect of their business customer focused.
"I think one of the first things that sets us apart from our competition is when you call our office. We strive to have a live person there to answer the phone," Bennett says. "So, you aren't leaving a message and hoping somebody calls you back."
Bennett and Shook also visit each account monthly, spending 15 to 20 hours a week doing walk throughs, to make sure their employees are meeting their quality standards. "We share these visits with crew leaders so they get accolades or know what needs to be corrected," he says.
No matter a client's budget, the couple will work with them to create something they can all be proud of.
"We design, install and maintain impeccable landscapes everyone can afford," Shook says. "We believe blue-collar families should be able to afford good work."
But their positive, giving attitude doesn't end with there.
Both owners are heavily involved with their community and say it's important for them to give back when possible. They volunteer their time and materials for community projects. These service projects include spending a day at the Restoring Hope Center grading and cleaning up brush.
They've also laid pavers at no charge at the Veterans Memorial for Veteran's Day and given donations to Habitat for Humanity, Izzypalooza, the Children's Cancer Fund and Northern Moore Family Resource Center.
So, it's no surprise they won the 2012 Small Business of the Year from the Chamber of Commerce.
Looking back
While they continue to experience success, if they could go back and do it all again, there are a few things they would change – especially when it comes to business components.
Watch a video about Green Dreams' success story
"I wish someone would have told us what to do early on about things like health care, vacation time and benefits for employees," Bennett says.
Something else they wish they had done earlier was use a client binder. Each team has one of the binders, which lists every client, what services they get, what they like and their pet peeves.