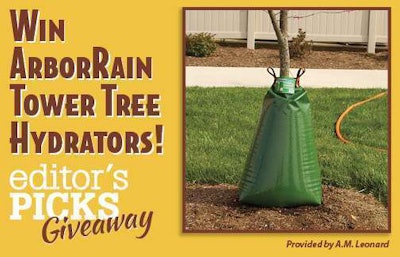 Total Landscape Care is wrapping up another Editor's Picks Giveaway.
Today is the last day to enter the giveaway to win one of 10 A.M. Leonard's ArborRain Tower Tree Hydrators.
For those that don't know, tree hydrators help get water right to the roots, prevent water runoff and help increase survival rates on trees.
Additionally, individuals can zip multiple hydrators together for larger diameter trees. A single hydrator fits a tree up to 4 inches in diameter but two zipped together can irrigate up to 8-inch trees.
The inside plastic is black, which helps block the sunlight from passing through and prevent mold accumulation.
The zipper has a firm, secure lockdown to handle the water weight, without releasing on its own.
Don't you want to win one of these hydrators?
Enter to win before the day is out!