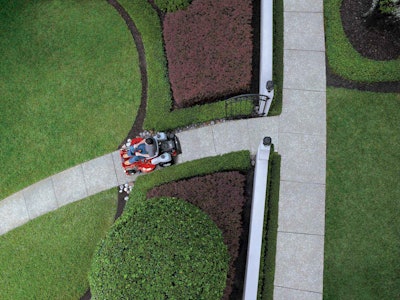 August is halfway over, and the summer heat isn't backing off any time soon.
Landscapers are still dealing with the constant struggles of drought and keeping lawns green.
However, Grasshopper Mowers recently put together seven tips to help landscapers keep lawns healthy for the next month or so left of summer.
The tips include:
1. Mow less frequently.
Don't add to the stress by mowing more often than necessary.
2. Follow the "1/3 Rule."
Don't cut off more than one-third of the plant's total height, especially during the summer.
3. Mow at a higher setting.
Longer grass blades shade the soil and reduce the rate of moisture evaporation.
4. Sharpen blades.
Dull mower blades tear the grass instead of cutting it.
5. Mulch the clippings.
Grass clippings are made mostly of water, and the remaining organic matter is broken down by the microorganisms.
6. Water less often.
Watering every day — even every other day— for short periods keeps the turf roots near the soil surface.
7. Water early.
Watering in the morning conserves water by reducing loss due to evaporation.
Grasshopper also provides a full guide on mowing tips.