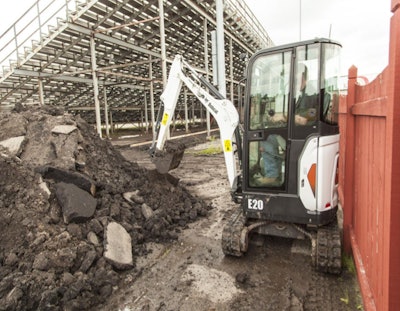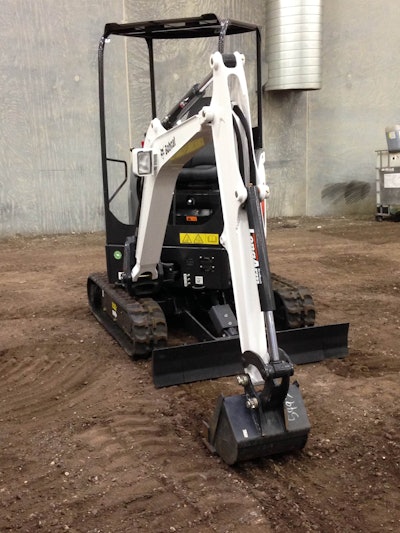 Bobcat introduced its zero tail swing (ZTS) E20 compact excavator, which will be available in the fall. The 13.9-horsepower model has a retractable undercarriage and increased uptime protection.
"It's a very maneuverable machine as far as getting into backyards, with building fish ponds and the little backyard projects where honestly the alternative is hand labor with shovels and wheelbarrows," says Tom Connor, Bobcat excavator product specialist.
The real key for the 1- to 2-ton machines, Connor says, is that they all have an undercarriage that retracts. The E20's undercarriage is 53 inches wide, but hydraulically, you can retract the undercarriage down to 39 inches. It also has blade extensions that can be removed.
The Bobcat E20 replaces the 324 excavator model and features auto-shift drive, a fingertip auxiliary boom swing control and an automatic slew brake.
The new Tier 4-compliant E20 has a maximum reach of 14 feet, dig depth of 8 feet 6 inches and dump height of 8 feet 8 inches.
RELATED: First Look at Bobcat's E32, E35 Compact Excavators
"Although many applications for this machine require only digging 18 inches down, this machine has an exceptional reach at 14 feet 1 inches, which enables operators to reposition their machines fewer times, leading to greater efficiency," Connor says.
With the E20, the rear of the house stays within the width of the tracks through full rotation, allowing operators to work flush against a structure to help minimize damaging nearby objects.
[youtube tkwG0dSdI20 nolink]
QuickLook: Bobcat E20 Compact Excavator
Tail swing: Zero Tail Swing
Engine: 13.9 horsepower (10,4 kW) Tier 4 diesel
Operating weight: 4,306 pounds
Dig depth: 8 feet 6 inches
Reach at ground level: 14 feet
Bucket digging force: 4,684 foot-pound
Arm force: 1,778 foot-pound
Auxiliary hydraulic flow: 7.9 gpm
Travel speed (low/high): 1.5 / 2.5 mph (2,4 / 4 km/hr)
Machine width: 39 to 53 inches