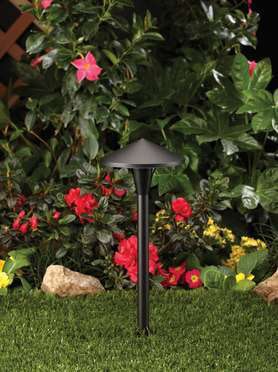 Featuring four ready-to-install luminaires, Vista Professional Outdoor Lighting's LED Path Light Series comes fitted with T3 LED lamps and are constructed from heavy-gauge, copper-free die-cast aluminum.
The series includes four luminaries: the 4708, 6507, 6509 and 6511.
Each light is already fitted with the company's 20-watt equivalent T3 lamp. Available in 15 polyester powder-coat finishes, the LED fixtures can be customized to meet a variety of looks in path light applications.
All four fixtures are die-cast in Vista's Simi Valley, California factory from copper-free aluminum.
The polycarbonate lens protects the fixture in damp and wet conditions, and the optic lens is textured for even light distribution.
The Path Light fixture tops are painted high-reflectance white underneath for true light color.
The Path Light Series luminaires come with stainless steel hardware and are shipped with ABS ground stake and silicone-filled wire nuts.