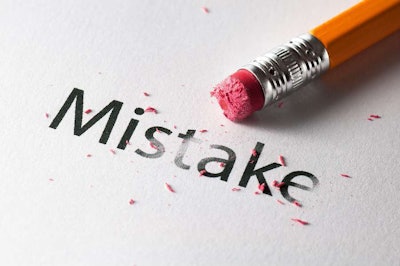 As an owner, you probably know the importance of marketing your business.
But what should you be doing — and not doing?
Here are the top 6 marketing mistakes you should avoid, according to Steven Cohen, landscape-snow industry consultant with GreenMark Consulting Group.
1. Targeting everybody. This means you interest nobody. Know who your best prospect is, understand him or her thoroughly and then speak to them directly.
2. Do not over-sell yourself. Talking about yourself is fine, but do in a way that interests the customer. Remember: In general, people don't care about you; they care about what you can do for them. Focus on benefits, possibilities and opportunities for your prospect.
3. Not having an up-to-date website (or no web presence at all). A well-designed and current website will make the best first impression on prospects. If potential clients cannot find you on the web, your prospects will often go elsewhere.
4. Not having professional looking proposals and presentations. This is where the rubber meets the road and many landscape contractors lose projects they should have won. A great presentation will not win a job by itself, but a bad one will lose the job. Good proposals and presentations tell a story. Without it, the customer will assume that landscaper "A" is different from landscaper "B" only on price. Your prospects want a reason to choose, and a winning presentation and value proposition will give it to them.
5. Lack of follow-up. I often see landscape companies spend money on marketing and then either cannot keep up with it or do not follow-up in a timely manner. The same goes for post-meeting follow-ups; it is imperative to return an estimate to a client with a reasonable amount of time. A responsive company shows they care about the client and values their time as you expect the client to value yours.
6. Marketing can over-sell capabilities if you are not careful. Make sure you have the resources to complete what you sell.