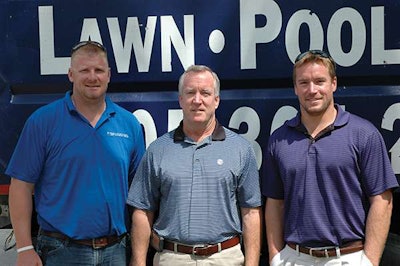 Location, location, location.
It's a word that means a great deal to Claude Kershner III, president of Reef Tropical Pool, Lawn and Construction.
A savvy businessman from the Philadelphia area who enjoyed spending vacation down in the keys, Kershner knew he needed a change.
"For me, it was about a lifestyle business and a geography decision," Kershner says. "I think people should be geographically where they want to be and then look around and see how can I make a living because this location seems to agree with me."
This mentality is exactly what led Kershner to purchase Reef Tropical Lawn in June of 1998 in the heart of the Ocean Reef Club in Key Largo, Florida.
Making the switch
Running his family's $35 million, 170-employee furniture business provided Kershner with a great deal of experience. He knew he wanted to apply those skills elsewhere in what he says is "the hardest place I ever had to leave on vacation."
After making a phone call to the most successful businessman he knew in town, Kershner discovered a small landscape company for sale with about 20 employees and approximately $680,000 in sales.
According to Kershner, as dissimilar as office supplies and furniture are from landscaping, there are quite a few similarities.
"Business is business," Kershner says. "It's the same thing with payroll, insurance, benefits, employees, customer service, business development and advertising. A lot of those things are similar."
The two are alike enough that Kershner uses a mission statement around the office that focuses heavily on business practices, including being the leader in customer service, quality and profit, as well as focusing on building a more "serviceable" installation for property owners and offering above-industry standard wages, help with company benefits in healthcare and 401K saving with matching benefits.
Since the initial purchase, Reef Tropical has tripled in sales and has also purchased a pool company and its competitor.
Reef Tropical handles commercial, residential and high-end residential properties.
Additionally, the company offers maintenance to its home county but will complete installs as far north as Fort Lauderdale and as far south as Key West.
The lawn division of the company has 28 employees divided into different crews, including a main landscaping crew, four maintenance crews, a Key Largo crew and two high-end residential crews on the reef.
The crews perform services such as maintenance, design/build, chemicals, irrigation, landscape design, installation, pest control, tree work and pruning.
Safety always comes first
For more than 10 years, Kershner has held quarterly meetings to go over two basic items: What are the typical injuries that happen in the landscape business, and what are the things that have happened to the company during the past 10 years?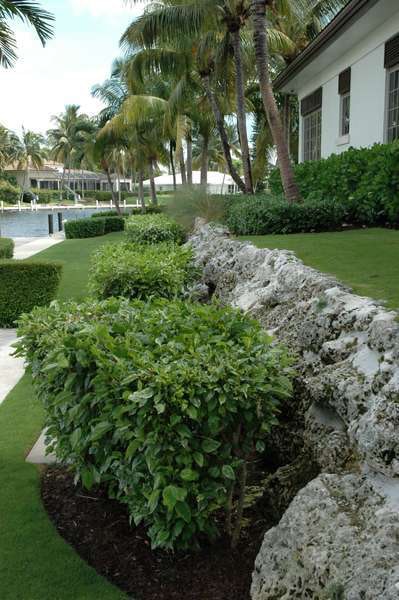 "It's not brain surgery to stop what you're doing for 60 minutes every 13 weeks and talk about safety, so we inject safety through the very fiber of the company," Kershner says. "We use the saying, 'Mamma don't want no one-eyed boys.'"
The company provides a pair of safety glasses every year, pays half of the cost for steel-toed boots, shirts, pants, hats and, if needed, helmets, but it's up to the crew leader to be responsible for evaluating all of the safety gear and reporting any issues back to Kershner.
And, for Kershner, if the job is too dangerous, he will always say no.
"About four years ago, we had a customer in the reception area insistent that we cut his trees that were around power lines," Kershner says. "We said, 'We've told you, and we're telling you again, we are not going to do it because it's near power lines, and the electric co-op will come out and do that for free for you.'"
About two days later, a competitor of Reef Tropical lost an employee trimming the trees.
Kershner's son, Claude Kershner IV, is an owner and operator for the company and also focuses a great deal on safety.
"I would rather have the company stop operations and everyone go home than have someone die under our management," Claude says. "I would be in a terrible place. To have someone cut his finger off, get hurt, be in the hospital or, God forbid, pass away under our leadership is impossible to deal with.
Smart marketing
Reef Tropical participates in the bidding process, but it's not as simple as bidding on every project that comes through the office.
Kendry Sanchez, account manager for the company, says it's all about communicating and understanding what the client expects.
Sanchez will contact the person in charge of the job and ask when they realistically expect the job to be finished.
"The first thing is we want to make sure that whatever we bid, we can actually do," Sanchez says. "Normally, we try to bid as competitive as possible to obviously get the job."
However, if there are concerns with plans or specs, Sanchez will sometimes give two prices on the job to see what he recommends versus what the client is expecting.
"We would go out of business if we just blindly bid everything that came across our desk," Claude says. "I think any landscape owner or landscape company manager would feel the same way, because you can be inundated and just sit there bidding all day long."
As far as finding the right projects to bid on, Claude markets and brands the company in a variety of ways, including through the Internet, word of mouth and by spending approximately $15 to $20,000 a year in paid advertising.
Some of the channels he uses include Google Analytics, Google advertising, Facebook, Twitter, LinkedIn and paid advertising through Yellowbook and Yellow Pages. The company also purchases commercials on television and has gone as far as purchasing commercials in movie theaters.
"A lot of our advertising is more of a rifle approach as opposed to a shotgun approach," Claude says. "We try to target our customers first."
Checks and balances
Kershner hasn't been immune to problems and concerns, however.
"Many years ago, I had an employee who had resigned, and there was some irregularity," Kershner says. "We were in the process of checking some things before she left. I wasn't really suspicious of her, and I trusted her like a sister."
However, after going through the process, Kershner found a check and another check that were written to her that were deleted from the general ledger.
View more project photos from Reef Tropical
After looking back four years in the investigation, the company found the former employee had taken approximately $220,000. That employee served four years in jail.
Kershner took this as a learning opportunity and quickly changed the way he handled finances.
"All bank statements are mailed to my house, all of the credit cards come to my house, and I'm only the signer on the checks," Kershner says. "We put in checks and balances that we didn't have before."
Next generation
The company has experienced a great deal of growth, including growing more than $20,000 in maintenance per month in just eight months. Kershner's entrepreneurial drive has been passed down to Claude, who has plans to take the company to the next level.
"By the time he transitions the business over to me, I would like to be a $5 million company in sales," Claude says. "I want to have almost twice as many employees, and I want to operate with more equipment."
For the time being, Claude will continue to learn from his father about what it means to run a business.
"Under my dad's guidance, leadership and mentoring, I have learned more, I believe, since I have started here than I thought I could have ever learned," Claude says. "I'm pretty happy with where I am, what I am doing and I hope to take the company, one day, to the next level."
Click here to watch a video about the company's success story.