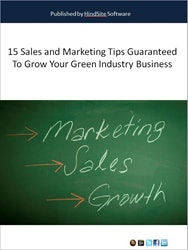 To help green industry professionals improve their sales and marketing processes, HindSite Software has introduced an eBook to its collection.
The eBook, 15 Sales and Marketing Tips Guaranteed to Grow Your Green Industry Business, delivers a number of sales and marketing tips that green industry businesses can implement in their business to improve revenue growth.
David Crary, author and owner of HindSite, says he learned the hard way, after three decades of business ownership, how difficult it is to grow a business.
As Crary explains, the green industry often overlooks simple sales strategies that are likely to boost their numbers.
Some of the key insights relate to the relevance of marketing in the green industry and continuing to follow up on leads until they reach a yes or no decision.
Other tips include how to get organized and how to leverage technology – like smartphones and tablets – to energize sales. Each chapter of the eBook tackles a different topic related to sales or marketing.