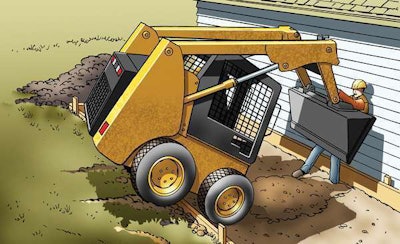 The accident: A 23-year-old crew member is working with another laborer on a residential project to prepare the site for a concrete slab.
The laborer is operating a skid steer, which is carrying gravel and sand, while the crew member directs him. The skid steer operator raises the bucket 6 feet so he can see the crew member, who is standing in front of the house. The crew member signals the operator to stop at the edge of the excavated form and then directs him to dump the load.
When the operator begins to dump the materials, the skid steer rolls into the slab's depression and tips forward toward the crew member. The crew member is pinned against the building by the bucket. The operator lowers the bucket, backs away from the building and calls 911. The crew member collapses and dies shortly after at the hospital.
The bottom line: Operators should keep the loader's bucket as low as possible when traveling and should only lift it as high as necessary for dumping a load, since weight shifts to the front axle when the bucket is loaded. The victim also should not have placed himself in front of the machine and in an area that limited his retreat.
Here are more safety practices to prevent similar skid steer accidents.
Equipment operators should load, unload and turn on level ground when possible, and they should avoid slippery surfaces.
Establish a safe distance and position for the signal person from the loader.
Don't leave the operator's seat while the engine is on, and keep your hands, arms, legs and head inside the operator's compartment.
Lower the bucket or attachment so it is flat on the ground before exiting (unless using a lift-arm support device).
Never modify or bypass safety devices.
Operators should receive training on how to safely use the equipment.
Read more Safety Watch articles.