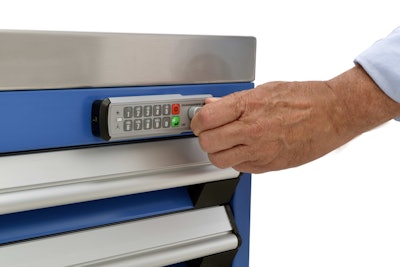 To help keep equipment safe, Rousseau Metal introduced the L50 electronic lock, which helps landscapers lock up equipment without needing a key.
The L50 allows landscapers to create 20 codes, including a supervisor code. Landscapers can decide to have one code per storage unit or give the code out to crewmembers who use the cabinet.
The lock uses AAA batteries and includes an indicator light to signal when the batteries need replacing.
Two other lights indicate when an entered code is correct or incorrect. The keypad is alphanumeric, which offers a variety of options when choosing a code. In addition, a red light shows if your cabinet is locked or unlocked at a glance.
The lock can be installed as a replacement across the company's cabinets.