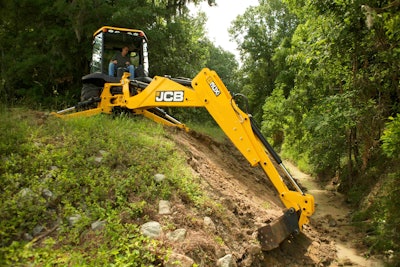 JCB has updated several of its pieces of equipment to meet Tier 4 standards.
The company has updated its 3CX Super and 4CX Super models to now feature auto idle, throttle and throttle control, as well as updated the Tier 4 Interim engine's software to help reduce fuel consumption.
Additional fine tuning of the fuel management system has resulted in up to 13 percent better fuel consumption at 1,500 rpm when excavating, with a 4 percent fuel improvement at 2,000rpm. Likewise, the latest backhoe loaders offer a 4 percent reduction in fuel consumption while traveling on the road.
Additionally, the company has introduced Tier 4 engines to its compact articulated wheel loader range.
JCB has replaced its previous Tier 3 406 and 409 loaders with 407 and 409 models. These machines are powered by 153 cubic-inch (2.5-liter) JCB Diesel by Kohler engines where they operate without the need for a costly Diesel Particulate Filter (DPF).
The 407 takes on the role previously played by the 406, with a 64 horsepower water-cooled electronically-controlled engine. The 409 features a 74 horsepower (55kW) version of the same power plant.
The 407 is 4 percent up on the old 406, the 407 benefits from a 58 percent higher peak torque output, while the 409 gets a 20 percent torque boost at a lower engine speed of just 1,500 rpm.
The loaders benefit from a redesigned rear main frame that allows for towing equipment to be installed, or for rear-mounted implements. The 407 is available with an optional high speed transmission. Additionally, the machines feature a revised joystick controls incorporating gear change and hydraulic multi-function control.
Customers can also specify a 100 percent differential lock in the front axle.