During GIE+EXPO, Husqvarna introduced a variety of products and machines, including the addition of two new fuel-injected engines on select mower models of PZ an P-ZT zero-turns:
Vanguard 810cc EFI is a closed loop system that constantly adjusts the fuel mixture and is available on the P-ZT 60 model.
Kohler 824cc Command Pro EFI has a manifold design, closed-loop fuel injection and a dual spark plug configuration. It is available on the PZ 54, PZ 60 and PZ 72 models.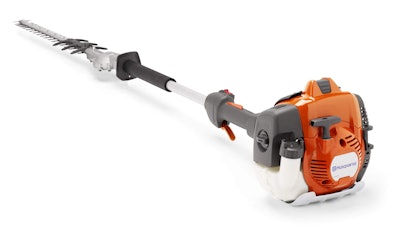 They also unveiled handheld products including two brushcutters, two trimmers and an extended hedge trimmer. The equipment was added to Husqvarna's family of 25cc 500 Series.
525L and 525LDX Professional Trimmers feature magnesium crankcases and drop guards. Each of the new 500 series is equipped with Husqvarna's X-TorqT engine technology. Everything from edging, hedge trimming, leaf blowing, dethatching and more can be accomplished. The manufacturer's suggested retail price (MSRP) for the 525L is $299.95, and the MSRP for the 525LDX is $399.95. Each is available in January 2015.
525RX and 525RJX Professional Brushcutters are part of the 500 series brushcutter range. The 525RX comes with an ergonomically designed harness and adjustable bicycle style handle. The 525RJX comes with a loop handle and blade kit. Plus, each of the new 500 series brushcutters is equipped with an X-TORQ engine. The MSRP for the 525RX is $399.95; and the MSRP for the 525RJX is $429.95. Each is available in January 2015.
525HF3S Extended Hedge Trimmer has the heaviest-duty gearbox of any Husqvarna hedge trimmer, and its fixed blade system, in the center of the shaft, is easier to control when sculpturing. The MSRP for the 525HF3S is $439.95. It will be available in January 2015.