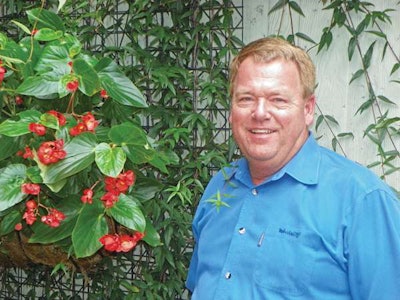 For more than 30 years, David Land has strived to dramatically exceed expectations in the landscaping industry.
Land caught "the bug" at an early age, and by the time he was a senior in high school, Land was grossing $20,000 a year mowing grass in Dallas, Texas.
It was that same determination and fire that led him in 1983 to pack up everything he owned, sell his house and move to Tulsa, Oklahoma, to purchase Tulsa Landscape.
Humble beginnings
After working part time at his dad's irrigation company, Land lived and breathed everything landscaping.
He received his irrigator's license a year out of college and proceeded to work for a full-time fire-protection sprinkler company.
However, after three years, Land knew his time had come to move on. "I found out my parents knew people from their church who wanted to sell Tulsa Landscape," Land says. "I heard about it, and six weeks later, we sold our house and moved to Oklahoma."
In the second year of owning the company, Land was able to double revenue and gain 25 employees. However, despite the success, Land still faced bumps in the road.
"I believe one of my faults is I tend to be a poor delegator," he says. "I had no midlevel management in place with 25 employees. You learn that everybody doesn't want to work as hard as you do, and everybody is not as honest as you are."
The economy started to slow in 1985, and Tulsa Landscape started to feel a bit of a pinch. "Thankfully, I was able to sell off a lot of the equipment and get premium prices for it because we were selling before things got bad," Land says. "We rode that down from 25 employees in '85 to one in '87."
From that point forward, Land was determined to hire fewer but better-quality employees. "I was never going back to that original group I acquired because they cost money. They don't make you money," Land says. "Hire the best people and subcontractors you can. It will always be less expensive in the long run."
The company has continued to grow steadily with five employees and provides design/build for high-end residential, as well as maintenance for residential.
Sold on the Internet
Tulsa Landscape has taken full advantage of the offerings of the Internet, including using inbound marketing through the Hubspot platform and capitalizing on writing blogs and making videos.
Using inbound marketing has transformed the business, according to Land.
View more project photos from Tulsa Landscape
After having a third person redo his website, Land finally had enough. "My website consultant calls it not having the keys to your store if you don't do your own website or have someone within your organization do your website," Land says. "You have keys to everything else, but you don't have the keys to your website."
When the 2013 season started, Land was -getting as many as 10 leads a day. "In 30 years, I had never seen that," he says.
Additionally, he updates the blog on the company's homepage. "We're sold on the web," Land says. "The blogging is critical to driving people to your website. Google has to keep monkeying with their algorithm, so the blog is even more valuable because it's real content vs. some of the pages that are fluffy."
The company's next step is to incorporate the use of video. Land created a seven-minute how-to video on programming a Hunter controller. "I did it so that my clients could have a resource in case they couldn't remember," he says.
Taking it one step further, Land's son made a QR code, printed several out and put them on the back of the controllers. Because of this, clients will have the ability to scan the QR code to watch the video directly from a mobile device.
"People my age have no problem using a smartphone," Land says. "We just don't know how to leverage all of those things."
Paying it forward
One initiative that Land takes pride in is the community involvement and giving back to young people in the landscaping industry.
Land has been a member of the Professional Landcare Network's (PLANET) advisory board at Oklahoma State University for 10 years.
"You try to help other people, give back and pay it forward," Land says. "I think if you're around the right people, in the green industry especially, it's impossible. You cannot give away more than you get because people in this business are so giving."
The professional advisory board works with educators and entrepreneurs across the country, as well as works with a large pool of horticulture and architecture students every year. "I run into people all of the time who tell me they graduated from there and say, 'I remember you,' because I spoke at one of their classes on estimating," Land says. "That has been a neat byproduct of all of that."
Knowledge is power
As for the future, Land knows he will never stop learning, which he hopes will help his business continue to grow.
This mindset also extends to his employees. "I like to take my people to anything I see that is valuable out there or they find is valuable for us to learn about a new product, process or something that our clients would be interested in," he says.
"You cannot give away more than you get because people in this business are so giving."
Because Land knows technology is evolving, which has inevitably changed the landscaping -industry, he has turned his attention to hiring young people to help his business.
"I hired my first green industry college graduate in 1999, and since then, I have a lot of them trained through here," Land says.
Not only has Land been more excited and proud of his work since hiring college graduates, he has seen a lasting impression with the company's clients.
"I don't know what else you can do and get that kind of feeling when you go home at night," he says. "To hear the words, 'I knew it was going to be good, but you just dramatically exceeded my expectations.' How can that not make you feel good? If I could say one thing about our team, it's that we dramatically exceed expectations."