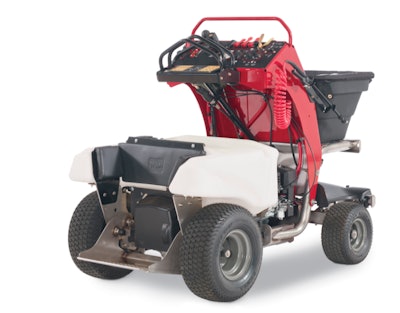 Toro added a stand-on spreader/sprayer to its turf renovation product line.
This machine includes Lean to Steer technology, which allows the operator to control forward/reverse and left/right steering with one hand. That way, they can adjust spread-and-spray settings at any time during operation.
With forward speeds of up to 5.5 mph, the Toro spreader/sprayer has a 175-pound spreader hopper and a 20-gallon spray tank. An additional 50-pound dry fertilizer bag can be carried on top of the spray tank. A standard hand-held spray wand is also included.
In addition, Toro's spreader sprayer is designed for comfort with a suspended stand-on operator platform that helps reduce operator fatigue — similar to the platform on Toro's GrandStand stand-on mower and 30-inch stand-on aerator. The machine also has a stainless steel operator platform, isolation mounts and ergonomic padded knee bolster.
The Toro spreader/sprayer is equipped with a commercial-grade, 9-horsepower Subaru engine, hydrostatic transmission and corrosion-resistant stainless steel frame.