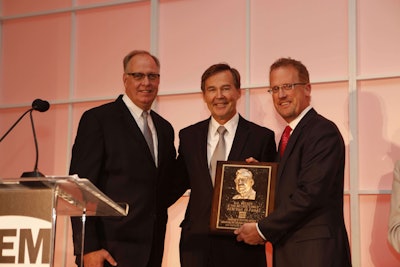 Seven Bobcat pioneers were inducted into the Association of Equipment Manufacturers Hall of Fame at the AEM Annual Meeting this month.
The seven members are from the Melroe family of North Dakota and include Edward Gideon (E.G.) Melroe, founder of Melroe Manufacturing Company of Gwinner (now Bobcat Company); his four sons: Les, Cliff, Roger and Irv Melroe; son-in-law Gene Dahl and nephew Sylvan Melroe.
Among the family's several innovations in equipment, the Bobcat loader became their greatest accomplishment.
Sylvan Melroe of Fargo, the company's first advertising manager, who helped add the Bobcat brand to the loader, is the only living honoree, but many Melroe and Dahl family members reside in North Dakota and Western Minnesota.
AEM judges looked at the nominees' record of innovation, industry contributions, leadership, corporate citizenship and social responsibility, and sustainability. In the case of the Melroe family, AEM noted that the story is one of industry firsts in product design, technology and safety.