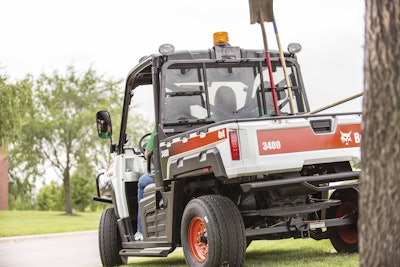 Moving into 2015, Bobcat has released the four-wheel drive Bobcat 3400 and 3400XL utility vehicles.
The utility vehicles feature improved suspension systems, payload and towing, faster travel speeds and more integrated accessories.
Both the 3400 and 3400XL models have sealed constant velocity transmission and are available with two engine configurations: a 40-horsepower (570cc) gas engine or a 24-horsepower (11120c) diesel engine.
Both vehicles include an electronic fuel injection system, which adjusts to temperature and altitude changes. The 3400 and 3400XL diesel units have automatic glow plugs that adjust to colder starting conditions.
An ergonomic lever allows operators to shift between high, low, neutral and park positions. The four-wheel drive system also allows operators to shift to adjust to changing ground conditions.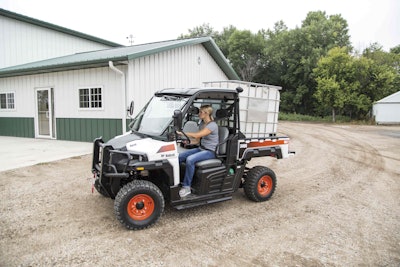 For protection, both models have a skid plate, a constant velocity shield and an optional brush guard to protect the undercarriage, engine, transmission and radiator when traveling over rough terrain and materials.
The utility vehicles provide both an adjustable independent front dual A-arm suspension and an adjustable rear de Dion multi-link suspension system. Each utility vehicle wheel moves independently, keeping all wheels in contact with the ground.
Bobcat enhanced the models to include modern interior and exterior styling, which means the utility vehicle's frame has flat-sealing surfaces to ensure a good seal.
Front and rear windows, the roof and canvas or hard-sided doors can be removed as needed on both models.
Additionally, the vehicles have a cargo box with 1,250-pound payload capacity and a longer cargo box, which is 7 inches longer than previous models.
Featuring a single-latch mechanics, the cargo box includes an integrated fastening system, as well as tie-downs to secure cargo. A standard manual or optional hydraulic dump lever is available to empty materials from the vehicle's cargo box.
To help with more storage, Bobcat has added under-the-seat storage and new storage across the dash to complement the existing glove box.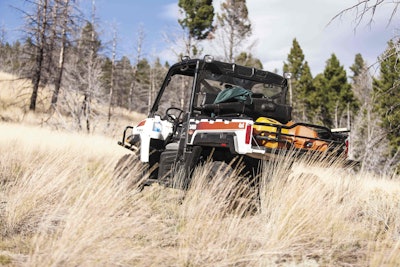 A LCD display shows operators the following options:
4×4 position
Battery voltage
Electronic fuel gauge
Engine temperature
Fuel gauge
Miles
Rpm
Service intervals
Speed
Time
Total hours
Transmission position
As for maintenance, the vehicles provide a constant variable transmission (CVT) sealed cover that protects the drive belt used in the CVT and seals the belt from water and other weather variables.
Both models have an optional snow blade that connects to the machines with a winch kit. For ground maintenance, a 60-gallon sprayer can be mounted to a machine's cargo box.
Additional accessories include a 2-inch front receiver, front and rear work lights, radio and speakers, strobe light, backup alarm, a 4,500-pound winch and turn signals.
Cargo box accessories include a divider/extender to separate, protect and transport cargo, or extend the length of box by length of the tailgate; rear window guard to secure cargo that extends above the top of the cargo box; tool holder mount; weather resistant tool box and chainsaw mount to transport a chainsaw on the side of the cargo box.
QuickLook: Bobcat 3400 Utility Vehicle
Transmission and drive: High, low, neutral, reverse and park; CVT
Drive system: 4×4
Horsepower: 40 hp (29,6 kW) gas or 24 hp (17,9 kW) diesel
Vehicle towing capacity: 1900 lb. (862 kg)
Cargo box load capacity: 1250 lb. (567 kg)
Maximum travel speed: 40 mph with dealer installed kit
Accessories: full line; including snow blade (with winch kit), sprayer for cargo box
QuickLook: Bobcat 3400XL Utility Vehicle
Transmission and drive: High, low, neutral, reverse and park; CVT
Drive system: 4×4
Horsepower: 40 hp (29,6 kW) gas or 24 hp (17,9 kW) diesel
Vehicle towing capacity: 2150 lb. (975 kg)
Cargo box load capacity: 1250 lb. (567 kg)
Maximum travel speed: 40 mph with dealer installed kit
Accessories: full line; including snow blade (with winch kit), sprayer for cargo box