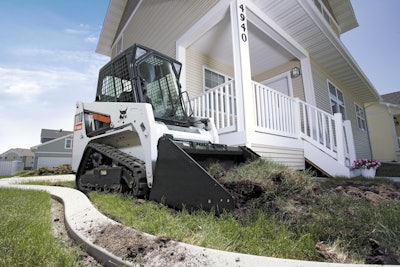 The versatility that comes with a compact track loader is making it one of the fastest-growing products in the equipment industry. Adding a compact track loader — and the right attachments — to your fleet can allow your company to find more work throughout the year.
The key to selecting a compact track loader is knowing how much you will use it and how it will be used. The more often you use it, and the more attachments you can put on it, the faster the return on your investment.
There are two main types of compact track loaders: mini track loaders and compact track loaders. Each is designed to provide varying levels of power, lifting capacity and mobility.
Mini track loaders
One of the major benefits of these small loaders is the ability to fit through narrow passages between houses or gates. They are also a great option to reduce the amount of work done by hand. You can walk behind these units or attach a ride-on platform.
Compact track loaders
If access isn't an issue, you may prefer a compact track loader with a cab. These larger machines offer more pushing and lifting power than a mini track loader. Pressurized cabs reduce noise, provide all-around visibility and keep you clean and comfortable.
Extending working seasons
When other equipment slows or shuts down due to the weather, mini and compact track loaders can keep you up and running longer. Low ground pressure — as low as 3.6 psi in mini track loaders and 4.6 psi in compact track loaders — allows you to work more productively in soft, sandy, wet or muddy conditions. For many, it translates into several additional days, weeks or even months of work, allowing projects to start earlier in spring and extend later into fall.
The length and width of a compact loader's tracks have a direct effect on ground pressure and traction, and ultimately a machine's mobility. Narrow tracks provide better traction and maximize ground pressure on hard surfaces or slippery ground. A wide-track option lowers ground pressure and increases flotation when working on challenging terrain. Plus, rubber tracks reduce damage to existing turf, which eliminates the need for costly jobsite repairs when the project is complete.
Generating returns with attachments
Attachments that are designed specifically for landscaping tasks not only help you stay competitive, but their versatility helps increase your productivity. And that allows you to generate new revenue sources with your mini and compact track loaders. These attachments range from landscape rakes and soil conditioners to sod rollers and grass seeders.
It's easier to expand a business when attachment changes in the field or shop are simple and efficient. To manage fast changes, some attachment mounting systems are compatible with dozens of attachments that are vertically integrated with the loaders' hydraulics and electrical systems.
EDITOR'S NOTE: This article is written by Mike Fitzgerald, a loader product specialist with Bobcat Company.