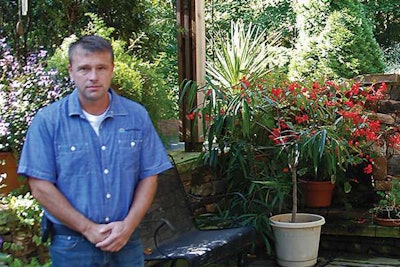 From a struggling kid in high school to becoming a successful business owner, Steven Wright has proven he has what it takes to thrive in this industry.
Owner of Creative Landscape & Irrigation in Asheboro, North Carolina, Wright has always weathered the ups and downs and discovered ways to grow his business.
Uphill battle
Wright never had it easy – having a child at 16 and needing to support his new family – but he says having his landscape work helped him overcome obstacles, even though others weren't always so sure of him.
"When I graduated from high school, I tried to borrow $10,000 from the bank, and they laughed," Wright recalls. "Now, we mow their property."
He says it was difficult starting out because he had to show he wasn't just a young kid mowing yards for extra money during the summer – he wanted to make this industry his profession.
With two sons by the time he was 20, Wright knew there was more at stake than just him. He steadily grew the business, taking his sons to jobsites and showing them the ins and outs – -something they really enjoyed.
Now, his sons have bigger roles in the company. Cody, 27, and Kaz, 24, both supervise crews and share the same love as their dad. "I grew up around it, and I enjoy doing it," Cody says.
Wright depends on his sons, letting them call the shots on the jobsites. "They can handle the issues," Wright says. "I wouldn't be where I am today without my boys."
Changing to survive
While Wright now has about 11 employees and close to $1 million in annual volume, his company wasn't immune to the hard-hitting recession.
"I thought 2008 was the end of the world," Wright says. Ninety percent of the company's revenue came from homeowner's associations (HOAs) at the time, and that segment really took a hit.
Irrigation services also saw a decline, compared to their install work. "That's the economy and because irrigation systems are buried, and customers can't see them like pools, plants and other features," Wright says. They went from doing a dozen or more irrigation projects a month to only a handful in an entire year.
Also, instead of doing $100,000 jobs, they started getting projects a fourth that size. So, they downsized their staff and turned their focus to pools. "That's been our salvation," Wright says. "You have to be a building contractor to do swimming pools, so that helps us survive with guys who just have a trailer and mower with no permits."
Not only has Wright used pool services to grow his business, he also opened a pool store. His daughter-in-law, who has a business degree, runs the shop. Many of its clients also become customers of the landscape business once they visit. "After we sell a hot tub, we will mail them a design for the area around the hot tub," Wright says.
Another important aspect has been differentiating themselves from their competition. "Any one who has a truck and a lawn mower is now a 'landscaper,'" Wright says. "When I started in '87, there were three landscapers in the phonebook. Now, there are 93."
The industry hasn't returned to pre-recession numbers, but Wright has seen areas of growth.
New construction has taken off in Asheboro, making their services 75-
percent install and 25-percent maintenance – which is the opposite of what it was before the recession.
Finding success
Another thing that helped keep his business afloat during the downturn was the fact that Wright didn't finance equipment. Instead, he bought slightly used machines, earning Wright the nickname "vulture." He has excavators, skid steers, hydro-mulchers, straw-blowers, mowers and other pieces of equipment in his fleet.
In a town of about 62,000, Wright says his reputation is everything. His business participates in local fundraisers, donates work and materials and gives discounts to churches and non-profit groups.
They also offer discounts for winter installs, and they actually had their largest project to date this past January. They installed a patio, lagoon pool, outdoor kitchen and hot tub.
Another important part of his business is his team of workers, which are hard to come by. To find good workers, he enlists the help of his current crew. "The best way to get an employee is through an employee," Wright says. "If they aren't good, that employee has to fire them. They don't want to look bad."
While his journey hasn't been easy, Wright has overcome his hurdles and followed his passion. And he attributes his success, in part, to the vision he has for each project.
"What this means is 'seeing' the client's dream and being able to imagine what the client's yard could become as an extension of their home and living space. My wife thinks I'm crazy, but I can just see it," Wright says with a smile. "You have to be able to adapt to trends in landscaping such as concrete walkways to stamped walkways to paver walkways. There is no room for skimping on the quality of work given to the client, no matter how big or small the job. Each client deserves the best."