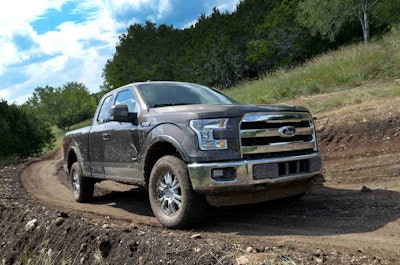 The 2015 F-150 has been one of the most talked about pickups in decades, with details about its innovations, engines and advanced technology flooding the media in a steady stream since its public reveal at at the 2014 Detroit Auto Show.
Such coverage shouldn't be a surprise: This is one of the biggest marketing hurdles Ford has taken in its history – convincing loyal F-150 owners that an aluminum pickup body is better than steel in work environments where strength and durability mean everything.
But after spending several days driving the new trucks, it's clear Ford's switch from steel to aluminum is going to be an easy sell to Blue Oval loyalists – and set the stage for other manufacturers to follow.
The new F-150's ride, handling, durability, capacities, technology and performance are a huge step above the current models, which bodes well for those whose current pickups are getting long in the tooth.
These next-generation F-150s are a look into the future that may become the norm. The aluminum body is made from military-spec 6022-series alloy that is heat-treatable, so it can be formed, rolled and strengthened to meet all types of applications and requirements while shaving up to 700 pounds off an equivalent steel body, according to Pete Reyes, chief engineer for the F-150.
Reyes says the 2015 F-150 (2016 Super Duties will be aluminum as well) is stronger and more rigid than the one it replaces while being more dent and ding resistant.
That strength comes from the body design as well as bigger, lighter, stronger frame rails that significantly increase frame rigidity. Frame rigidity contributes to the new model's more refined ride and tighter handling.
Four engine options
Then there're the engine options: Ford offers four choices in the 2015s starting with the base 283 horsepower 3.5L V6. Those needing more power can step up to an all-new 325 horsepower 2.7L EcoBoost V6, the 365 horsepower 3.5L EcoBoost V6 or the 385 horsepower 5.0L V8.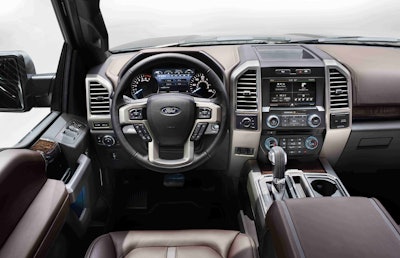 The base 3.5L, 3.5L EcoBoost and 5.0L are carry-over from last year. The 2.7L EcoBoost, however, is a new engine initially designed just for the 2015 F-150 – and the little twin-turbo V6 is a real head-turner with torque that makes it feel just like a small-block V8.
It'd be an ideal engine option ($500 upgrade over the base V6) for landscapers who want to maximize fuel economy while being able to tow trailers up to 8,000 pounds on occasion – although it's most suited for towing trailers in the 4,000-pound range on a daily basis.
Landscapers with more robust trailering requirements should look to either the 3.5L EcoBoost V6 or the refined 5.0L V8 to fill their needs. Both engines are proven performers. I really like the way Ford has matched the six-speed automatic to the V8, which sounds awesome under heavy throttle.
I pulled 9,000-pound box trailers behind 2015 SuperCrews with both the 3.5L and 5.0L and was impressed by their towing prowess and grade braking. Ford gives the 3.5L EcoBoost the highest tow rating, with 12,200 pounds being the max on Regular Cab 2wd models.
The 5.0L V8 will give better towing fuel numbers than the bigger EcoBoost V6 just because you don't have to work it as hard towing the same weight. The V8 is EPA-rated at 15/17/21, which is very close to what I observed during my short driving time.
Bigger cab, more comfort
Frame and body design changes lead Ford to give the 2015 F-150s a bigger, more comfortable and quieter interior than their predecessors, respond faster to steering inputs, drive nicer, brake better and generally outshine the previous model in every way related to ride and handling.
The new truck feels more agile, more nimble than the 2014s. Shaving 500-700 pounds off a pickup and making the chassis stiffer in the right places does wonders to how it handles.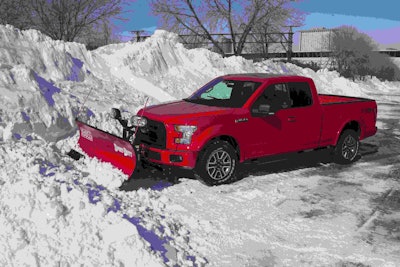 The new cabs have more headroom to the sides than the previous model, a wider interior (door panels are thinner), and on the SuperCabs the rear doors now open almost 180 degrees, making access to the rear seats and flat load floor quite easy.
Then there are the new features that help make the trucks an even better work tool: optional remote tailgate release; the tailgate with the step and assist handle built inside so the tailgate's inner face itself remains flat; and Ford's optional BoxLink storage system with cleats that can hold loading ramps and other tools tight to the bedsides.
Electronic innovations abound, too. For example, the rear-view camera now incorporates a dotted line that shows the exact path between hitch ball and trailer tongue for easy hook-ups. Want more camera views? Ford offers a 360-degree (a camera on front, the side mirrors and tailgate), so it's easy to see where the truck is in tight spaces.
Another nice feature is Ford's use of LED spot lights in the side mirrors that can be tilted outward to serve as work spot lights—and the LED light under the tailgate handle that illuminates the area behind the bumper.
The 2015 F-150s also have 110V, 400-watt outlets in the cab to run electronic devices from laptops to battery chargers. A must for the landscaper's mobile office.
With more than 10 million miles of development testing and my preliminary driving impressions, there's little doubt this new generation of F-150s gives landscapers looking to step out of their old ½-ton Ford pickups every reason to do so.
But, before you make that final choice, hook up your landscape trailer to both EcoBoost-powered models as well as the V8. You may find it difficult to choose which engine option is the best for your company truck.
Editor's Note: Bruce Smith is a Senior Editor at Randall-Reilly