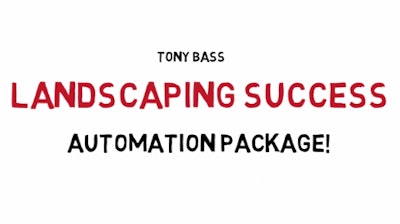 GetUSales has partnered with landscaping marketer Tony Bass to develop a marketing system to help landscaping professionals.
The system, Tony Bass Landscaping Success Automation Package, allows smaller landscaping businesses to get started in marketing automation quickly.
The package includes the Infusionsoft platform and seven ready-made email marketing campaigns.
The first step in the package is importing contacts into Infusionsoft for landscaping platform.
The system can also be set up to automatically enter people into the system from CTAs and web forms from the company's website.
Once the contact is entered into the system, the contact is attached to one of seven email-marketing campaigns that will appeal most to them. Emails in the campaign are then sent to the contact at pre-determined intervals of time.
The Infusionsoft platform includes a lead-tracking feature that allows owners to see which leads are most interested and need to be contacted directly, as well as which leads need more attention.
The system also shows how many links were clicked to help determine ROI and effectiveness of the package.