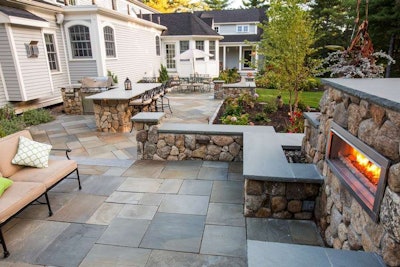 Creating the ultimate backyard is not an easy task, but landscaper Rosado and Sons was able to transform a 1,200-square-foot backyard into a functional and relaxing outdoor living space for one Hopkinton, Massachusetts client.
The project included the installation of a customized gas fireplace, patio areas, sitting walls with piers, granite steps, walkways, a custom cooking area with granite bar, built-in gas grill and oven, low-voltage lighting, water features and a variety of plantings throughout the space.
According to owners Tony Rosado and Mark Kaminski, it was rewarding for the entire staff to see the excitement of the client as each phase of the project was completed. "As construction progressed, the clients included 'optional' items as originally proposed to add the ultimate finishing touches to a very unique and functional outdoor living area," Kaminski and Rosado say.
Materials used on the project include New England Round Fieldstone with Bluestone Cap, granite, Natural Cleft Bluestone patio with granite accents and cobblestone border beds.
The team reworked and presented a variety of different materials, as well as feature and design options based on the client's needs and vision.
"Once selected for the project, the crews worked around inclement weather and soil/grading issues to insure each element was installed on time with proper base and structure," the owners added.
Project Location: Hopkinton, Massachusetts
Landscaping: Rosado and Sons
Want your project to be featured on TLC? Email photos and information to pattyvaughan@randallreilly.com.