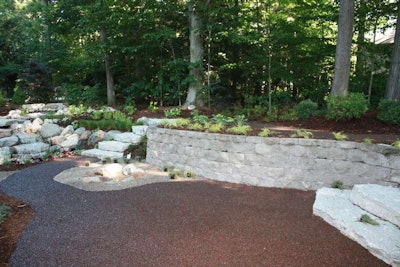 Through December 2014, all of the Porous Pave manufactured and installed totaled approximately 6 million pounds of rubber recycled from 200,000 tires.
Porous Pave is a porous and flexible surfacing material made of recycled rubber, aggregate and a binder.
The shredding and processing of discarded tires produces the ¼-inch size rubber chips incorporated into Porous Pave.
Porous Pave helps with stormwater runoff by allowing up to 6,300 gallons of water per hour per square foot to drain directly through its surface and down into a compacted aggregate base. The water then slowly filters into the ground.