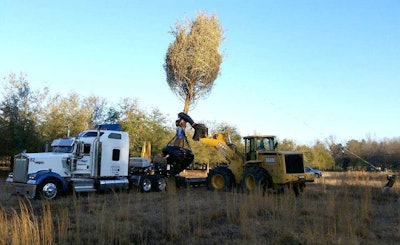 Four years ago, one very upset University of Alabama football fan decided to take his anger of losing against their rival, Auburn University, in a football game out on the historic Auburn Oaks on the well-known Toomer's Corner.
The historic 130-year-old oaks are best known by the football world of being covered top to bottom with toilet paper. A very common tradition at Auburn University is to roll the trees after a big win or great feat.
But that tradition came to a sudden and devastating halt after Alabama fan, Harvey Updyke, Jr., called into a well-known Alabama radio show claiming he had poured a lethal amount of Spike 80DF, a potent herbicide, on soil next to the oaks' roots.
One Last Rol

l
from Auburn alum Alan Brazzell
It has been four painful, heartbreaking years for Auburn fans as they slowly watched the trees come to their unexpected end. But fans can finally breathe a sigh of relief, because the trees are officially being replaced on Saturday.
Landscapers will plant two 35-foot trees, and the university is inviting the public to attend the event.
"We are partnering with the City of Auburn to make this a special day," says Mike Clardy, director of university communications. "Downtown merchants will be open early and three of Auburn's athletic teams will be in action that day. We are hoping people will come to the Plains and make a weekend out of it."
Planting the trees is the final step in Phase I of the Samford Park renovation, which includes enlarging the plaza and improving the landscaping near the corner. The second phase, which will begin after the school's annual spring football game, or A-Day, will feature the planting of 30 15-foot-tall trees – grown from acorns collected from the original oaks that were poisoned – between Toomer's corner and Samford Hall.