Just as winter dives into the coldest months, Polaris Industries rolls out two work ATV models in their Brutus side-by-side line along with attachments landscapers in the snow-removal business will find appealing.
Polaris' Brutus side-by-side utility vehicle line expands with the introduction of two Brutus HDPTO configurations and a cargo box utility spreader attachment.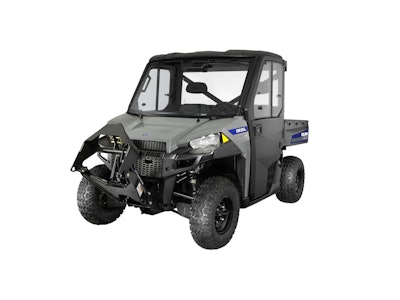 Available this spring, the Brutus HDPTO and HDPTO Deluxe models also include a Tier 4 compliant, 24-horsepower Kohler diesel engine.
The three cylinder overhead cam design and indirect injection delivers smooth power, reduced combustion, and minimal noise and vibration. Biodiesel fuels of up to B20 are approved for use with the engine.
Other 2015 Brutus features include:
Cab: The HDPTO allows users to configure the frame based on needs with optional Lock & Ride

Pro-Fit accessories, while the HDPTO Deluxe offers a fully-enclosed cab, complete with a noise seal-off kit, windshield wiper assembly, heat, defrost and air conditioning.
Alternator: A 110 amp alternator provides power to fit a variety of electrical needs.
Cargo box frame: A cargo box frame is designed to work with the utility spreader attachment.
The cargo box utility spreader is designed for application of dry, free-flowing granular materials such as sand and salt.
The spreader holds up to 7.8 cubic feet struck/10.6 cubic feet heaped, while dash-mounted controls enable the driver to make application adjustments directly from the cab.
The 2015 Brutus HDPTO and HDPTO Deluxe are compatible with the spreader, as well as the seven existing Brutus attachments including an angle broom, snow blower, finishing mower, snow blade, materials bucket, grapple and pallet forks.