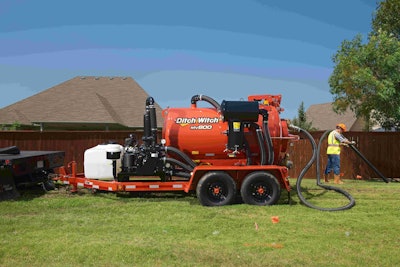 The MV800 is the latest piece of equipment from Ditch Witch. The vacuum excavator is designed for horizontal directional drilling cleanup.
It features a 31-horsepower Briggs & Stratton Vanguard gas engine, with an electric start and remote air-intake filter. The filtration system includes an integrated carryover chamber for preventing contaminants from reaching the blower.
There's an 800-gallon spoils tank for HDD drilling fluid cleanup. The excavator fits a customized, 14,000-pound GVWR trailer with high-visibility marking and impact guard.
Optional features:
Reverse flow feature & hydraulic opening door for spoils removal
100-gallon water system with adjustable pressure up to 3,000-psi