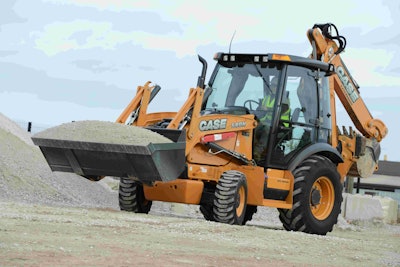 Case Construction Equipment has added Tier-4 Final backhoes to their line, including the lower-horsepower version of the 580N backhoe – the 580N EP.
The 580N EP uses Case's particulate matter catalyst – a combination of a diesel oxidation catalyst (DOC) and a high-efficiency flow-through filter.
Introduced at the Rental Show in New Orleans, the 74-horsepower 580N EP differs from the 90-horsepower Tier 4 Final 580N in more ways than horsepower, all while retaining the same performance specs on the critical backhoe end, says Katie Pullen with Case. "When you have an operator who is only running it intermittently, they're not going to look for all the bells and whistles," Pullen says. "We took out some of standard features on a 580N, including the ProControl system (an anti-rebound system on the backhoe end) and Easy Flex side lights."
Another difference between the EP, or "efficient-power" model and the 580N is the loader arm design, Pullen says. "It's still very strong, but the arms are shorter so you have about 2 inches less below grade dig depth and shorter hinge pin height, but both of these specs are comparable with what we had with our M Series" she relates. The loader end on the EP model has 300 pounds less lift capacity than the 580N.
The loader features a bucket breakout force of 11,517 pounds, backhoe lift capacity of 2,858 pounds and peak torque of 233 foot-pounds.
The remaining Case N series backhoes – the 580N, 580 Super N, 580 Super N Wide Track and 590 Super N – feature the Fiat Powertrain (FPT) engines with selective catalytic reduction (SCR) technology to meet Tier 4 Final standards.
Watch the video for more details on the 580N EP:
Editor's Note: Marcia Gruver Doyle contributed to this article