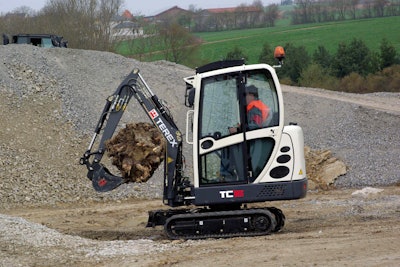 Two new compact excavators are on the market: the TC16 and the TC29 from Terex.
The excavators have Tier 4 Final Mitsubishi diesel engines with load independent flow distribution (LUDV). The LUDV distributes hydraulic power proportionally. They also include an auto-idling system, Knickmatic boom system for working alongside structures and treads intended for larger surface areas.
The neck cylinders are top mounted and are designed for high clearance. End-positioning cushioning are used for vibration reduction and comfort.
Here are specs for the individual excavators:
TC16 (above photo)
3,800 pounds
Dig depth of 7 feet, 3 inches
Maximum reach of 12 feet, 10 inches
Bucket capacity is 0.74 to 3.2 cubic feet
Broad rubber tracks with ground pressure of 3.6 psi
TC29
6,450 pounds
Dig depth of 9 feet, 10 inches
Maximum reach of 16 feet, 5 inches
Bucket capacity is 1.34 to 3.88 square feet
Broad rubber tracks with ground pressure of 3.69 psi