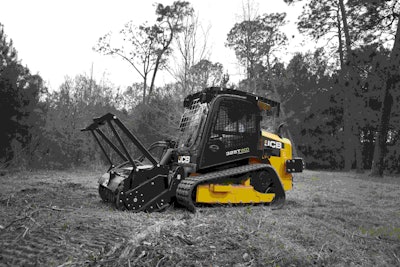 The biggest news for landscapers coming out of last week's JCB's Field Days event is the new Forestmaster 325T Eco.
Their newest compact track loader was designed based on recommendations from a client. They implemented suggested changes into the new design.
Features include a recovery winch, front work light protection and FOPS guard for A/C and rear lights. The 325T also has a track tube guard and a hydraulic hose and auxiliary coupler guard to prevent debris from clogging the unit.
Operator safety and comfort features include a full height side entry door, steel mesh on the left and right hand windows and a Lexan front windscreen with hinging front mesh.
The Tier 4 Final EcoMax engine requires no aftertreatment, has a low engine cover profile to boost visibility and delivers 74 horsepower at 1,200 rpm. Optional equipment includes a 60-inch wide mulching head with up to 45 cutting hammers.
Here are more photos from the event. Our sister publication, Equipment World, has details on the new loader.