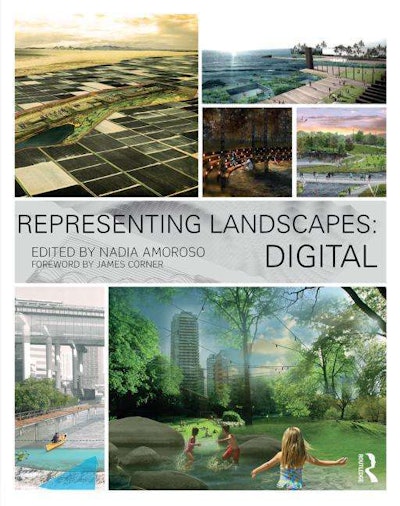 Homeowners have come to expect landscapers to provide digital representations of their designs and projects. A new book, Representing Landscapes: Digital, by Nadia Amoroso, explores a variety of methods for creating these illustrations.
Amoroso, who has authored several books, is an urban designer, landscape architectural designer, academic, mapping and visual representation expert and the Director of Amoroso Studio. In Representing Landscapes: Digital, Amoroso brings together experts from respected landscape architecture programs in colleges and universities throughout the world to explore a variety of digital illustration methods.
Each chapter features a specific digital approach with images to illustrate how each technique can be used in inspirational examples. More than 200 color images cover the spectrum of digital representation to help discuss the various drawing types, which are invaluable when communicating ideas in the field of landscape architecture.
The book is published by Routledge and is available in paperback for $59.95 and hardcover for $180.