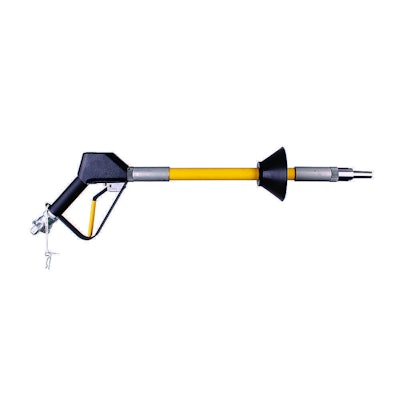 AirSpade's new soil excavation tool, the HT144 Shrub Gun, uses compressed air to quickly and efficiently remove soil covering roots and other underground objects without damage. Featuring a new, short-barrel design and "supersonic" nozzle that generates airflow at Mach 2, the HT144 is designed for close-up work with shrubs, bushes and flower beds.
Weighing less than 5 pounds, the HT144 operates at 60 cfm and can run on a compressor as small as 15 horsepower, or on a standard 185 cfm tow-behind unit.
"The AirSpade HT144 is changing the way arborists, landscapers and gardeners care for plants," says Thomas Tremblay, President of Guardair. "We recognized our customers' need for a more compact AirSpade tool and the HT144 provides just that. The growing season is a busy time for our customers. With AirSpade, they can get the job done easier."
AirSpade, a division of Guardair, has been supplying air-excavation tools to arborists, landscapers and utilities workers for more than 30 years.