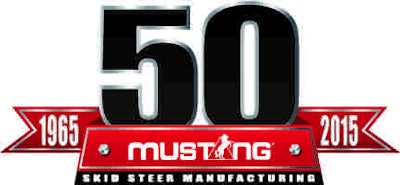 When Owatonna Manufacturing began designing and producing its own brand of skid steer in 1965, the Wisconsin company was only the second manufacturer to develop skid-steer loaders, which at that time were known as "self-propelled, four-wheel drive units." It was branded as the Owatonna Mustang Series 1000.
Fifty years later, Owatonna Manufacturing is part of Manitou Americas, a manufacturer of compact earthmoving and material handling equipment based in France. In 1997, the Mustang brand was sold to the Gehl Company, headquartered in West Bend, Wisconsin. Manufacturing facilities were consolidated into Gehl's South Dakota plant.
Since the introduction of that first skid steer 50 years ago, the Mustang brand now includes eight radial-lift and three vertical-lift models, including the 4000V, which the company says is the world's most powerful skid-steer loader.
"The Mustang brand is built on a foundation of designing and producing powerful, easy-to-use skid steers," says Dan Miller, CEO of Manitou Americas and president of the Manitou Group CEP-Compact Equipment Division. "Our task for the future is to incorporate new features and technology, yet still maintain the durability and integrity our customers have come to expect from the Mustang brand."