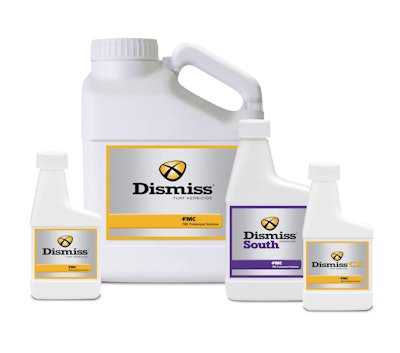 Turf professionals shopping for a sedge-control product may want to check out a new rebate offer from FMC, maker of Dismiss brand herbicides. From now through August 15, the company is offering instant rebates on Dismiss South, Dismiss CA and both sizes of Dismiss.
The discounts breakdown like this: $12.50 on each half-gallon jug of Dismiss Turf Herbicide; $10 on each pint of Dismiss South Herbicide; $5 on each 6-ounce jug of Dismiss CA Turf Herbicide; and $5 on each 6-ounce jug of Dismiss Turf Herbicide.
FMC says Dismiss herbicide controls yellow nutsedge and green kyllinga in warm and cool-season turf. Dismiss South herbicide combats purple nutsedge, yellow nutsedge and green kyllinga in warm-season turf. And finally, registered for use in California and Arizona, Dismiss CA Turf Herbicide is formulated to control sedges such as yellow nutsedge, purple nutsedge and green kyllinga, while significantly reducing new sedge populations.
Meanwhile, BioSafe Systems is working to ensure landscapers outside the golf-course management field are aware of its products' suitability for all kinds of landscape applications. ZeroTol 2.0, a broad-spectrum bactericide and fungicide used at many golf courses, "is a great solution for landscape professionals to use on each and every plant or grass," says Jeff Kline of BioSafe Systems.
HOLDit, a drift retardant, is compatible with ZeroTol 2.0, Kline says, and its polymer formulation locks in the active ingredient, enabling HOLDit to keep BioSafe products working longer.