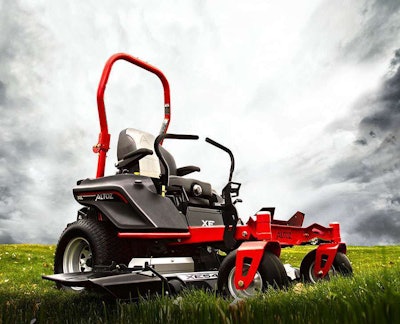 Altoz, a manufacturer of commercial and residential zero-turn-radius (ZTR) mowers, is offering customers a free engine upgrade through its "Power Up" sales promotion, which is only available through authorized dealers. For a limited time, Altoz says, its customers can get a 26-horsepower Briggs & Stratton Commercial Turf engine rather than the standard 24-horsepower Commercial Turf engine on both the XE 480 and XE 540 ZTR models.
Altoz says its XE model line exploits the same engineering principles found in the XP and XC Altoz mowers. The XE line is specifically designed for multi-acre residential jobs and smaller commercial operations. The XE model's Briggs & Stratton Commercial Turf engines are equipped with electronic fuel management, Hydro-Gear 3200 commercial transmissions, 22-inch rear tires and an optional suspension seat.
Authorized dealers for the Greenbush, Minnesota-based Altoz can be found using a tool on the company's website.