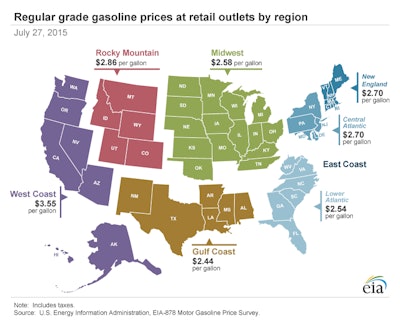 It's a trend any landscaper could love and well-timed to boot: The average price of gasoline fell 12 days in a row through Monday. AAA says that's the longest consecutive decline since January, when landscaping companies weren't nearly as busy as they are today, in the heart of the growing season.
Monday's national average for a gallon of regular was $2.71, according to the AAA Daily Fuel Gauge Report, down five cents per gallon from the week before and seven cents lower than the month-ago price.
"Most drivers are paying the lowest July prices since 2009," the report says, "and are saving 82 cents per gallon at the pump compared to a year ago."
The decline in the national average price of gasoline has been slow but relatively steady for some time, AAA notes, but some regions of the country – California in particular – have seen volatile price movements owing to refinery issues in their region or tight supplies.
"Pump prices have moved dramatically higher in California this month due to unexpected drawdowns in supplies, shortages in the blending components used to make the state's mandated boutique fuel and recent reports of several refineries dealing with production issues," AAA reports. "On the other end of the spectrum, production at refineries in the Midwest is reported to have reached a 2015 high and prices have subsequently moved noticeably lower in much of the region."
The outlook remains positive based on supply reports. AAA says U.S. inventories of crude oil grew by 2.5 million barrels in the most recent weekly report. The domestic oil-rig count was up by 21 in the same period – the largest gain since April 2014.
Says AAA: "Supply continues to outpace domestic demand and, as a result, West Texas Intermediate crude oil fell below $50 per barrel for the first time since April this past week."