First in a series
As the world's largest engine maker, Honda pursues the U.S. landscaping industry's business like the smart, global company it is – to win – and with an extensive line of products for commercial customers.
Over the next few days, TLC will look at a variety of Honda equipment for landscaping contractors, much of which was demonstrated at a recent press event at a ranch in San Marcos, California – not far from San Diego but very far indeed from the division's Deep South headquarters.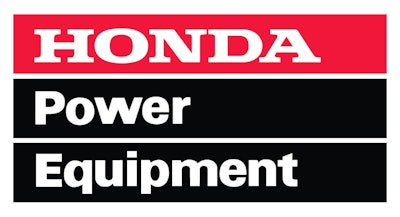 Alpharetta, Georgia-based Honda Power Equipment (HPE) oversees three operating units – Honda Power Equipment, Honda Marine and Honda Engines – and the division's engines, generators, lawn mowers, pumps, snow blowers, tillers, trimmers and marine engines are assembled at 11 Honda manufacturing facilities around the world, including Honda Power Equipment Manufacturing in Swepsonville, North Carolina, as well as Honda R&D Americas, also located in North Carolina.
Although Honda's weekend pursuit of retail customers at the big-box DIY is every bit as serious as HPE's bid for commercial business – and its retail product offering equally broad – the company has long been serious about capturing commercial business. And remember, its share of that market includes Honda engines that grace any number of other original equipment manufacturers' products, including numerous products specifically targeting America's landscapers.
Honda, predictably, is a big player on all fronts. And let's face it, even the largest and most well-managed of landscaping companies needs string trimmers, utility task vehicles (UTVs) and tillers scaled to install a flower bed next to a patio, not a cornfield next to a pasture.
In its latest move, Honda this week introduced its HSS Series of "premium snow blowers for North American and European markets," a company news release says, with the new two-stage models delivering "enhanced control and handling for both residential and commercial users."
Considering nearly a third of the U.S. landscaping industry is devoted to residential work, according to Hoover's, coupled with the need to maintain revenue-producing relationships with those clients during the winter, Honda may win over a substantial number of commercial buyers with its more powerful snow-removal products.
All 10 HSS Series snow blowers are new, Honda says, and they replace the HS Series entirely. Here's how Honda describes their key features:
Finger Tip Steering Control – conveniently located hand-lever controls allow for easy maneuvering and disengagement of transmission for easy movement when not powered (all models).
Hydrostatic Transmission – far superior than traditional disk drive; provides single-lever variable speed control when operating in forward or reverse (all models).
Joystick Electric Chute Control – single joystick control (four directions) provides precision control of chute rotation and discharge angle; directly powered by the engine's power coil; no battery required (all models).
DC Electric Start – no extension cord necessary; easy starting with the on-board battery, which is automatically charged by the engine (all electric start models).
Blower Diameter Increased – for increased snow removal speed and discharge distance. HSS724A increased from 252 to 300 millimeters (11.8 inches) over previous model; and both the HSS928A and the HSS1332A increased from 300 to 340 millimeters (13.4 inches) over previous model.
Chamfered Scraper Bar – design allows for edge of scraper to hit snow and ice patches flush and evenly for improved snow clearing to the pavement (all models).
LED Headlight – integrated into cover for improved night visibility; brighter, long lasting and "never burns out" (all models).
Auger Height Lever – adjustable gas strut to raise/lower and position the entire auger housing precisely, providing ground clearance over gravel or non-smooth surfaces (all track models).
Wheel Diameter – increased to 14-inch diameter with directional tread for more ground contact and improved traction (all wheel models).
Oil Drain location – improved for easier access (all models).
Offset Blower Shear Bolt – unique design that provides for quick replacement and protects both auger and blower from damage (all models).
Auger Protection System – protects the shear bolts (HSS1332 models only).
Hour Meter – monitors hours of operation (HSS1332 models only).
Precision Deflector Chute – double-articulated deflector improves distance accuracy control (HSS1332AATD model only).
Impeller Shield – optimized to more efficiently direct snow into the blower (all models).
Reversible Skid Shoes – increased durability, offering twice the wear surface (all models).
Three-year Commercial and Residential Warranty (all HSS models).
Honda says the HSS Series shines in "snow-throwing distance," as well as being lightweight, easy to start every time, with a pulley size optimized for top speed of the impeller and an impeller wing positioned at 90 degrees for increased efficiency. Those features "all work to contribute to increased snow-throwing capability for each model," the company says.
Scott Conner, HPE senior vice president, says in the news release, "Honda has incorporated a number of advanced features into the design of the HSS models to put more power behind the job of blowing snow, resulting in enhanced performance and ease of use."
NEXT: Where Honda finds a good fit in the landscaping market: small equipment that even the biggest landscaping companies use throughout the growing season.