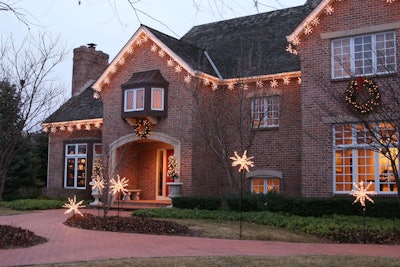 Over 15 years ago, Krisjan Berzins, president and CEO of Kingstowne Lawn & Landscape in the D.C. metro area, added holiday lighting to his service mix. "We were looking for additional revenue and a way to keep crews busy at a time of year when we slow down," says Berzins. Not wanting to overextend the company, Berzins started by sending out a billing insert in October. Within a month, they had more than enough customers for their first season.
Today, Berzins is booked at maximum capacity for his crews. He garners new customers primarily by word of mouth or yard signs. "It's definitely a luxury service," says Berzins. "What I didn't anticipate is that one thing leads to another. Some of our lighting clients have gone on to become regular landscape clients who have contracted for various high-dollar projects with us."
While profit margins vary by region from 20 to 40 percent, other benefits are less tangible. Holiday lighting services earn good will with clients. And for most crews, it's enjoyable work.
"Our guys love it," says Jimmy Thompkins, owner of JT's Landscaping and Lawn Care in Raleigh, North Carolina. "They love seeing people's faces light up when we finish a design. The positive feedback is tremendous."
Here's what to consider before offering holiday lighting:
Understand what's involved
Contractors usually custom-design each project, with most designs including roofline lighting, wreaths and accent shrubs or trees. Of course, design is limited only by budget.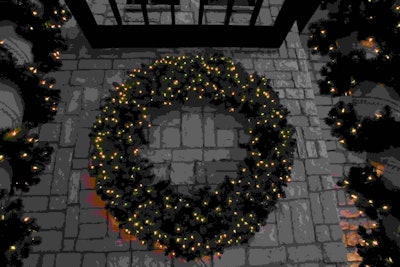 "Like any other landscape project, listen to what your clients want and communicate details beforehand," says David Veron, president and CEO of The Veron Company in Marlborough, Massachusetts. "What I have in mind may not be what the client has in mind."
Crews should be trained in proper use of ladders, as climbing is necessary on almost every job. "We invested in a bucket truck for maneuverability and the safety of my crews," says Veron. Also, contact your insurance company to ensure you have proper coverage. In addition, you'll also need a warehouse to store lights off-season.
Marketing does not have to be complicated. Mailers, emails, door hangers, yard signs and word of mouth are the most common methods for spreading the word. In fact, many successful contractors say they have to turn away customers to avoid over-committing crews.
Research your options
Some contractors become a franchise or work through a lighting distributor, both of which typically provide training and marketing advice. Most contractors require lights to be purchased by clients, with average-size homes billing between $1,500 and $2,500. Commercial clients may bill higher.
Leasing lights to clients is another option, but it involves more business risk due to your up-front investment in the lights. Leasing works in some markets, but not in others.
"Leasing is about half as expensive for clients so it has a draw, but we found it was not a business model that worked for us," says Thompkins. "A lease is too temporary. You do customized designs that you may not be able to use again if that customer doesn't come back next year."
Know your product
Contractors recommend buying commercial grade lights, not off-the-shelf products from big-box retailers because the quality of the latter is inferior. LEDs are used almost exclusively nowadays due to their energy efficiency and reliability. When clear or white LEDs first came on the market, they appeared almost blue. But they've improved considerably in recent years to replicate the more yellowish-caste incandescent lights have always had, says Kingstowne's Berzins.
While a working knowledge of electricity is helpful, LEDs draw less power than incandescent lights, which makes residential installations straightforward. It's generally a matter of adding up the draw of each strand of lights.
"Occasionally, we run into a situation when we need to add another circuit on larger projects, so we call in an electrician," says Berzins.
Manage your time
The biggest challenge to adding lighting services is that the season is tight. Installations may begin when other work such as mowing and cleanup is still under way and it's generally not profitable to bring in people just to do holiday lighting. "We start by November 1 and pull the team together out of different divisions," says Thompkins. "This enables us to backlog projects that we can do in winter, such as patios and hardscape."
Most companies finish installations by Thanksgiving; takedowns start in January. But weather is always an issue. "(In 2014), everything was frozen and we couldn't take some products down until April," says Veron.
Dream big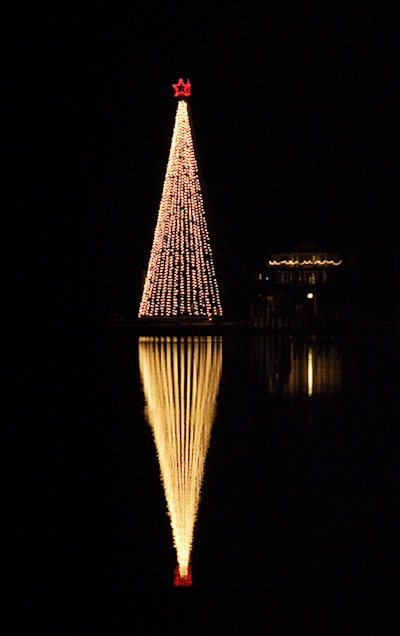 Static displays are popular, but the most jaw-dropping trend is holiday light shows. "When I was a kid, I kept asking my parents to add more and more lights to our house," says Brian Larsen, owner of Countrywide Landscaping in Chicago. "My dad said when I got my own house, I could do whatever I wanted." It was advice Larsen took to heart.
Over 10 years ago, Larsen started designing computer-driven light shows at his home. Lights blink and flash in sync with holiday music that's broadcast through a small FM radio transmitter. Holiday light lovers listen and admire from the comfort of their cars. Larsen even won a national competition for holiday lights a few years ago.
Work begins in September for shows, which are designed primarily for commercial venues and a few residences in the Chicago area.
"Everything is custom-designed and programming one song can take up to 80 hours," says Larsen. While it's an indulgence even in a luxury market, Larsen says interest continues to grow. He suggests learning to work with basic kits, which start at about $4000 and include a transmitter and small design elements such as lighted trees.
While holiday lighting may not necessarily be the most lucrative of your add-on services, many contractors do it simply because they enjoy it. "I take my son around and show him what we've done," says Veron. "I get a kick out of that."