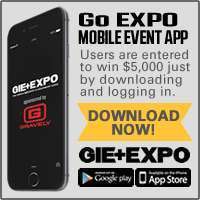 For those wanting a personalized experience at the upcoming GIE+EXPO, there is now a free app for that. The Go EXPO app is available for download in both iTunes and Google Play. And as an added bonus, those who download the app will be automatically entered in a $5,000 giveaway.
The app is sponsored by Gravely and enables mobile users to view the floor plan, exhibitor information, event schedules and show announcements. For the social media savvy, the app shows tweets and Facebook posts from fellow attendees and exhibiting companies.
Go EXPO has a "Personalized Planner" enabling the user to create a customized itinerary of the sessions and exhibitors he or she wants to see. The planner function also can be used to request appointments and it displays an interactive map that leads to the desired booth location.
Product information about the exhibitors, conference schedules and exclusive updates from show management about GIE+EXPO are also available on the app.
Attendees can use the app to rate sessions, take notes during educational meetings, view handouts and send emails during the show.
The 2015 GIE+EXPO starts Wednesday, Oct. 21, which is Dealer Day, and opens to all participants Oct. 22-23. Pre-registration is $15 per person until Sept. 10. The fee increases to $30 on Sept. 11 and to $60 on Oct. 18.
To register for GIE+EXPO, click here.